Friday
We set off from Vancouver early in the morning on Friday. After a long, and uneventful drive we stop at the ranger station on Sunrise Park Road, nab some permits, and park at the White River Campground. After loading up our packs, we start hiking up the trail. It is generally a pretty good trail, and along the way there are nice sightings of Little Tacoma & Rainier. One we passed the campsite at Glacier Basin, the trail became a little more difficult, and we arrive to the base of the Inter Glacier pretty tired.
After a short nap we started to walk up the glacier. The Inter Glacier has lots of bare ice and patchy visibility but we make it up with little difficulty. We get little off track and take the first trail we see which heads up to Steamboat Prow. We are rewarded with good views, but then have to take a crumbly trail down shitty class 3 rock.
Camp Shurman is a welcome sight. One advantage of climbing Rainier in September is that fewer other people are doing it, and you don't have to fight for camp site. The regular campsites all have rock wall about 30–50 cm high around them, which was greatly appreciate since the wind never really got below 30 km/h while we were there and was often a fair bit higher.
I would like to make a particular mention of the outhouse there. It is built entirely out of stone and (presumably) mortar. This makes it very solid and strong, and here is a story about why that is a particularly good thing.
Friday evening turned out to be quite windy—windy enough to blow someone right over if they weren't a little bit careful. I also had to go to the bathroom on Friday evening. I made my way down from the tent area, around the ranger station, and to the outhouse, which stands right beside a sort of precipice which drops down to the glacier about 20 meters (3 stories) below it. The door itself is latched shut by the sheer strength of the wind blowing across it. A bit of a tug and I get inside the outhouse. The door slams behind me.
It never really struck me how much sensory deprivation there was in a lighthouse. I couldn't see a thing, and all I could hear was the howling wind outside. For all I knew, this outhouse could actually be an orbital re-entry vehicle and it would have all seemed the same. I was very glad that the outhouse was solid and that I didn't have to worry about it accidentally flying off the mountain with me in it.
Saturday
After about 5 hours of sleep, we woke up at midnight to head for the summit. Most people would probably refer to this time as "Friday evening", but it is technically Saturday, and it makes my section headers easier that way.
We headed straight up from the camp, not really sure where the route went. Eventually, we went up a little tricky slope that took us to the "Causeway" (the big ramp just to lookers left from camp). We continued up to the shoulder at the top of the ramp. At this point our teams split up, at first we thought they were probably turning around, but then later we saw them trailing behind us. 1
The rest of way up could certainly be described as a slog, if you are prone to use such words. The crusty layers of ice & snow made the plodding a made the going slow, and I found myself chopping footsteps to make it go faster for the people behind us. The large number of crevasses also made route-finding tricky, but Clayton did a good job of finding a way around them.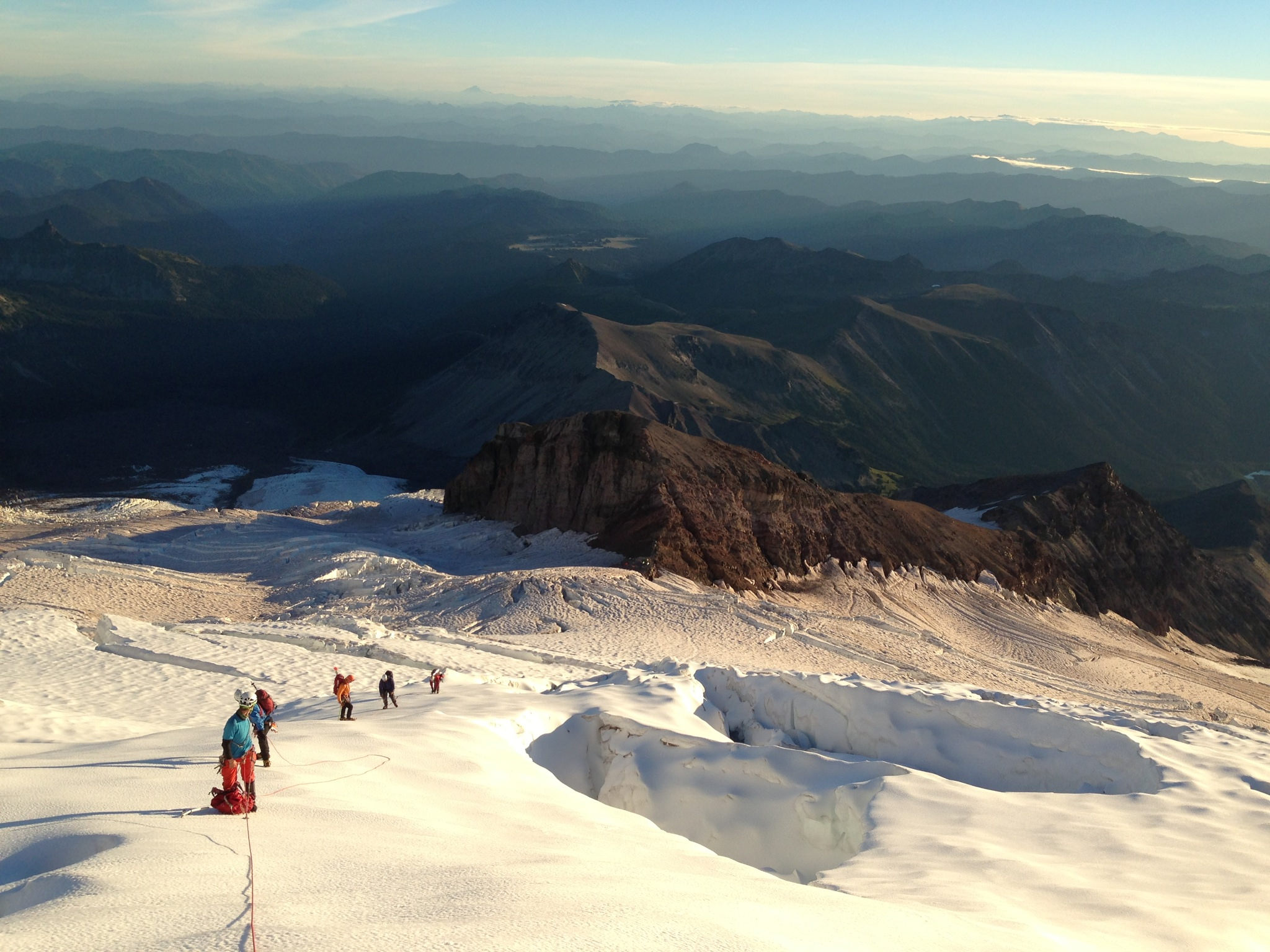 Eventually we made it to the summit. It was a pretty solitary place, that day. I'm not sure if any teams had made it up from any of the other routes, but if they had, there was no sign of them. The winds were unfriendly though, and it was already past noon, so we quickly turned around.
As we were coming down we met the other team, just beyond the bergshrund—at the start of the vast summit dome. Much to our surprise, they seemed to be in good spirits. I had been a little concerned by how late they were up there, but two of the people in the team were strong, experienced mountaineers so I figured everything was good. ...
We headed down the mountain and tried to set an obvious path on the way down so that they wouldn't have difficulty on the way down. There was one point on the way down were we had an exposed traverse about 10m over a large crevasse and the snow quality was pretty shitty (thin crust & 6cm of powder on top of ice). I remember thinking that it would be a really bad place to fall, but it wasn't that steep so I didn't really think too much of it. The tiny snow bridges elsewhere on the mountain seemed a lot more terrifying.
It wasn't until we got near to camp, about 17:00, that we spotted our friends again. They were much further up the mountain than they should have been (about ⅔ of the way). We got back to camp and started eating dinner and boiling water and keeping a watch on them. They made slow, but steady progress down. We would loose sight of them every now and then as they moved behind a serac or some such feature. Around 19:30 we lost sight of them again, just above that traverse. After about 1 hour we started to get worried. We began looking at our options and preparing to climb back up and look for them. The ranger who was supposed to be at the camp wasn't there, and no one was listening on the emergency radio. We called 911 and they connected us to the parks staff who said there was a ranger over on the other side of the mountain who would come over as soon as possible.
About 22:00 we were all suited up again with some emergency gear and left camp. A couple other guys who had climbed Rainier that day say stayed back to keep an eye on us (they were more tired and we didn't want to endanger too many people). We got up to about 100 meters short of where these guys were and one of the guys on our team completely ran out of energy. I was really frustrated and wished I could continue on my own, but obviously that's not how it works. We ended up having to short-rope him down back to camp.
Sunday
On our way down, at 1:00, we ran into a party climbing the mountain. We told them about the accident and where the group was. They continued up and found the party at around 4:00. 2 They sent out a 911 call, but were unable to reach the group because they were on the other side of the crevasse. This time, 911 notified search & rescue.
Around the same time, a ranger gets into camp. I woke up and talked to him shortly, but told him our group had already been up the mountain 1½ times and were probably still too tired to reach them. About 6:00, another party started going up, and the ranger began to build a helipad. The second party got there around 9:00, and one of them was able to be lowered into the crevasse and bring them some extra jackets and water.
Slowly, but surely, the rescue effort was organized and at about 13:00, they started long-lining our friends out of the crevasse. We waited in camp as the ranger had instructed us, finally, about 17:00 after everyone had come off the mountain, we were told we could leave and took off with our friend's camping gear strapped to our packs. We reached the car about 21:00 and then visited our friends in the hospital. 3 We finally got back to Vancouver about 7:00 on Monday, having had about 6 hours of sleep in the last few days.
Footnotes
From what I gathered later on, Oudi was suffering from a bit of AMS, and Andre gave him some dexamethasone, and then they continued.

As it turned out, the fallen party was quite lucky. The crevasse they fell into was about 40m deep, but they bounced off one side onto a small ledge onto the other side 20 meters down.

One guy was pretty much fine, just bruised. Another one had a few bruises to his brain and no recollection of the entire trip, but was otherwise find. The third guy had a broken collarbone/dislocated shoulder, broken ribs, some minor head trauma, was suffering from bad hypothermia, and had limited feeling in one arm for about a year.