A few weeks ago, me and 4 other guys from the BC Mountaineering Club headed up Mt. Baker to climb the North Ridge. Some hiker friends joined us for the day on Saturday for the hike up to base camp and we were able to persuade them to carry our ropes up for us. Apparently I have awesome friends.
Base camp was on a rocky bump at 1900 meters, a bit up and to climbers left of the moraine camp. It seems like a pretty ideal spot if you want to make this an overnight trip.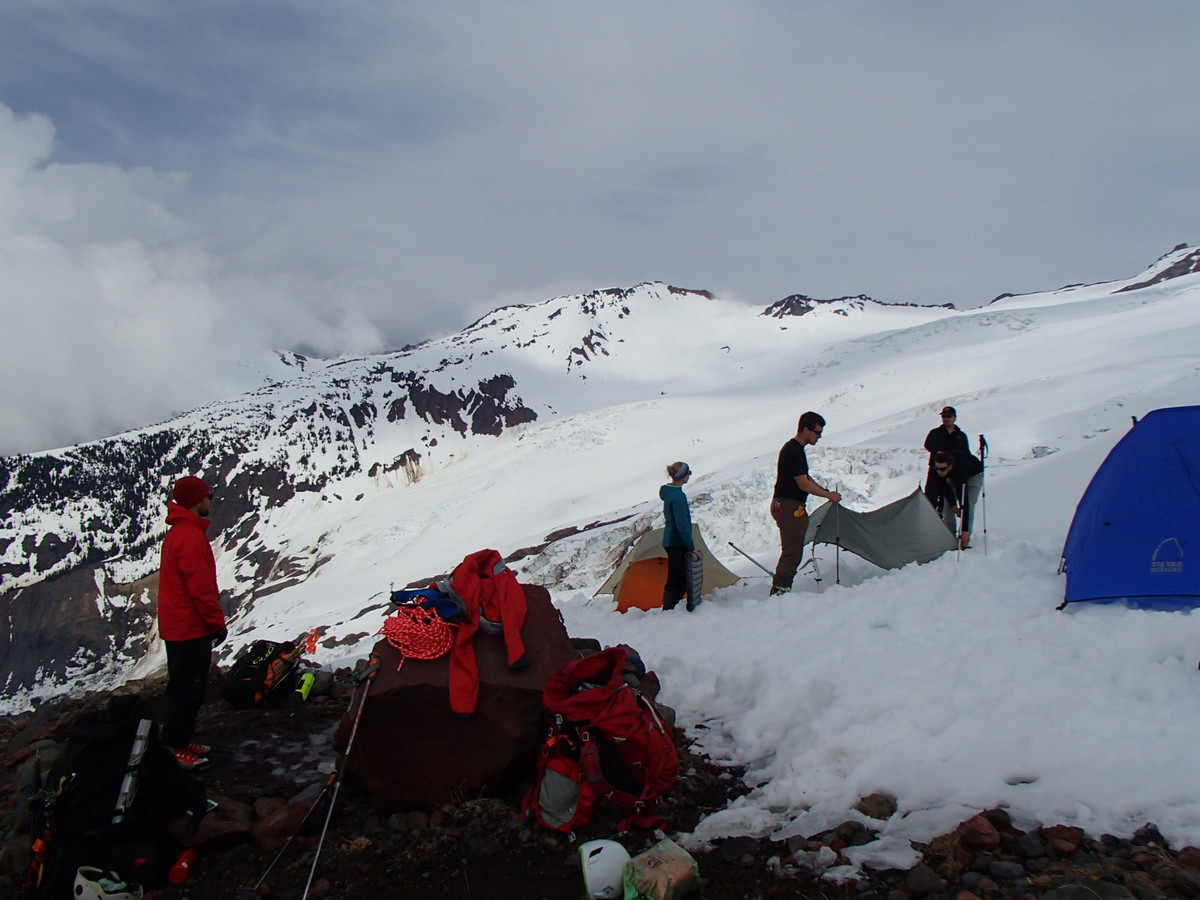 The forecast was for a storm to come in on Sunday night, so we wanted to get up and down as early as possible. We wake up at 23:00 and the sky is completely clear and finally get going at 00:30. Crossing the Coleman glacier wasn't exceptionally difficult, but our route meandered a little as worked our way around crevasses. Coming upon a large crevasse in the darkness is an experience that I doubt will ever become boring.
We ended up a little high and ended up traversing straight across to gain the ridge via the hourglass. We didn't bother protecting the traverse, and it was steeper than I had expected. I remember thinking that it would be a bad place to slip, but nobody slipped and things went smoothly.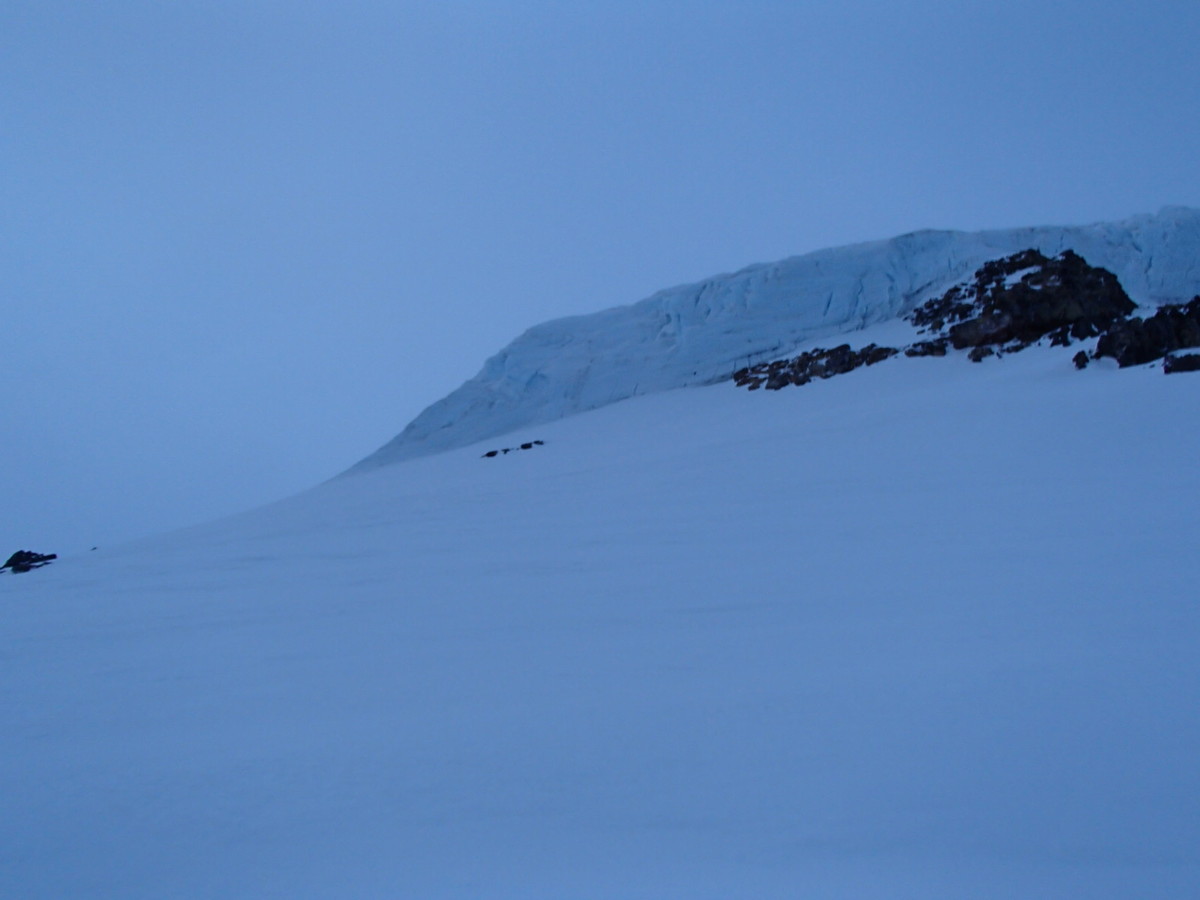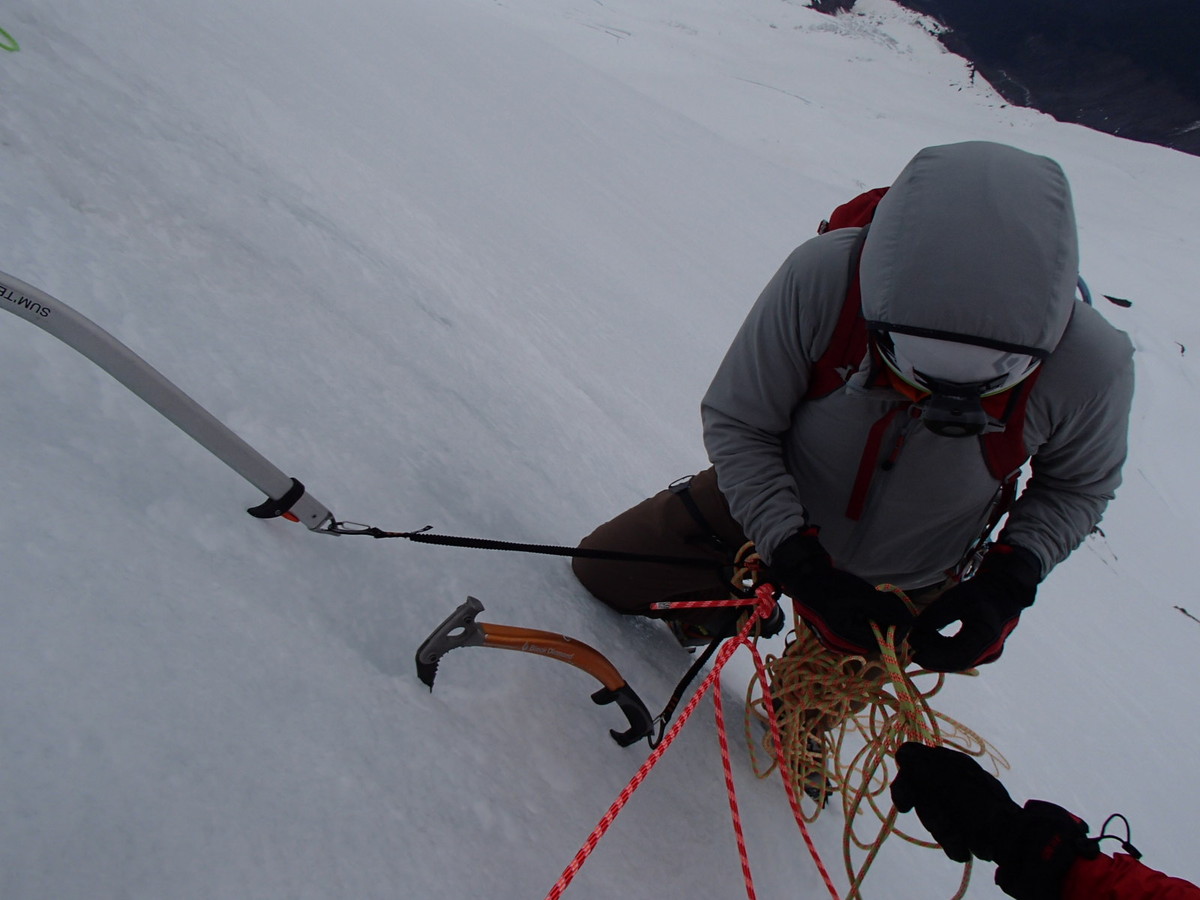 Once we gained the ridge, the steepness eased off and the snow was punchy and plastic, making for an easy ascent to the ice cliff. We reach the ice cliff just after sunrise (6am) and we can see clouds rolling in from the other side of the summit. We build an anchor and the two leaders start climbing. I was supposed to be one of them, but as I had been finding out that morning, my Petzl strap-ons were simply refusing to fit my ski boots properly and needed regular adjustments (leading to some rather terrified and careful climbing). At this point our progress slowed to a halt, over the hour or so that it took the leaders to climb the cliff and set up an anchor, the snow began to fall and visibility dropped to about 50 meters. After the pitch on the ice cliff we simul-climbed the rest of the way to the summit.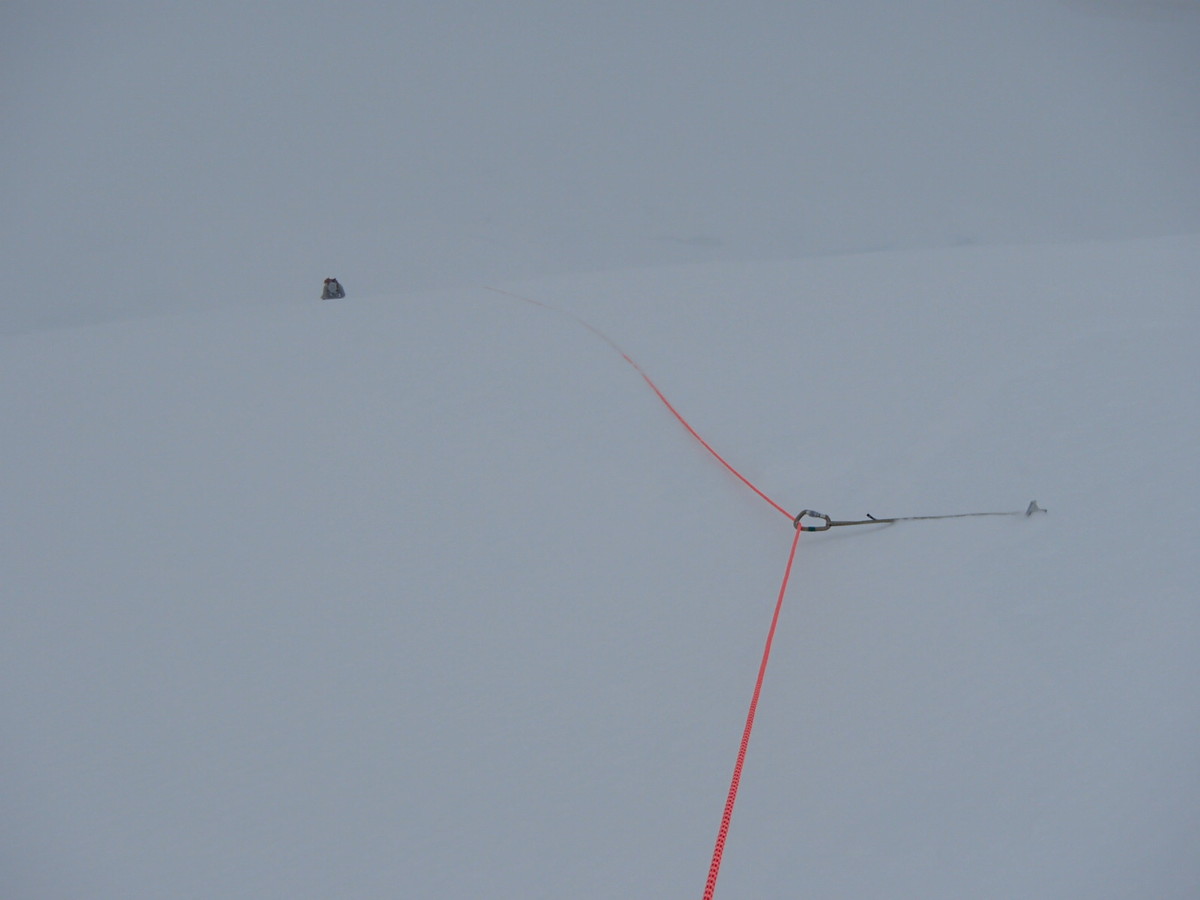 We finally arrived on the summit plateau at 12:00, and the weather which had been getting increasingly worse was now a proper storm. It was a lovely cocktail of snow, rime, and wind that made you hate your life whenever you looked into the wind. I had thought this descent down the Coleman-Deming would be a cakewalk, having done it 5 or so times before, but I could only see about 10–20 meters in front of myself and there were no tracks for the most part. Carefully following a map, compass, and a GPS without tracks on it, worked for the most part, but navigating around the crevasses was a little frustrating.
Half-way down the Coleman Glacier, I ran into the strangest sight: a rope team hiking up the route, at 16:30 in a storm. I yelled at him, and he yelled back at me and gave me advice on how to get around the crevasse that was currently giving me difficulty. At first I wondered if for some reason there were guides or rescue workers out looking for people, but it turned out they were a group of Microsoft employees who had gotten themselves tremendously turned around and lost. Exactly where they had been, I wasn't quite sure, but they had convinced themselves that they had accidentally descended the Deming Glacier and were attempting to go back to the Grant-Colfax col and return to their camp at the base of the Coleman. Fortunately we got them sorted out and shortly afterward we heard someone calling in the distance for the lost Microsoft team. Our bedraggled team finally made it to camp at 18:00 and pack up and down to the car at 20:30.
Gear Notes
6 screws and 4 pickets per team, could have used more screws or more efficient use of them.
Half-way between the ice cliff and the summit (about 2900 meters) we dropped a picket, it's probably somewhere down on the Coleman Glacier. Finders keepers.