With all the disappointment that this winter has brought for skiers there is one upside: mountaineering rocks. None of that soul-killing wallowing in powdery snow, all the trails are bare, and all the climbs are either dry rock or hard snow and ice. It's pretty much like the summer, but less sweating and less slush. Small slivers of snow are often strong enough to support body weight right now.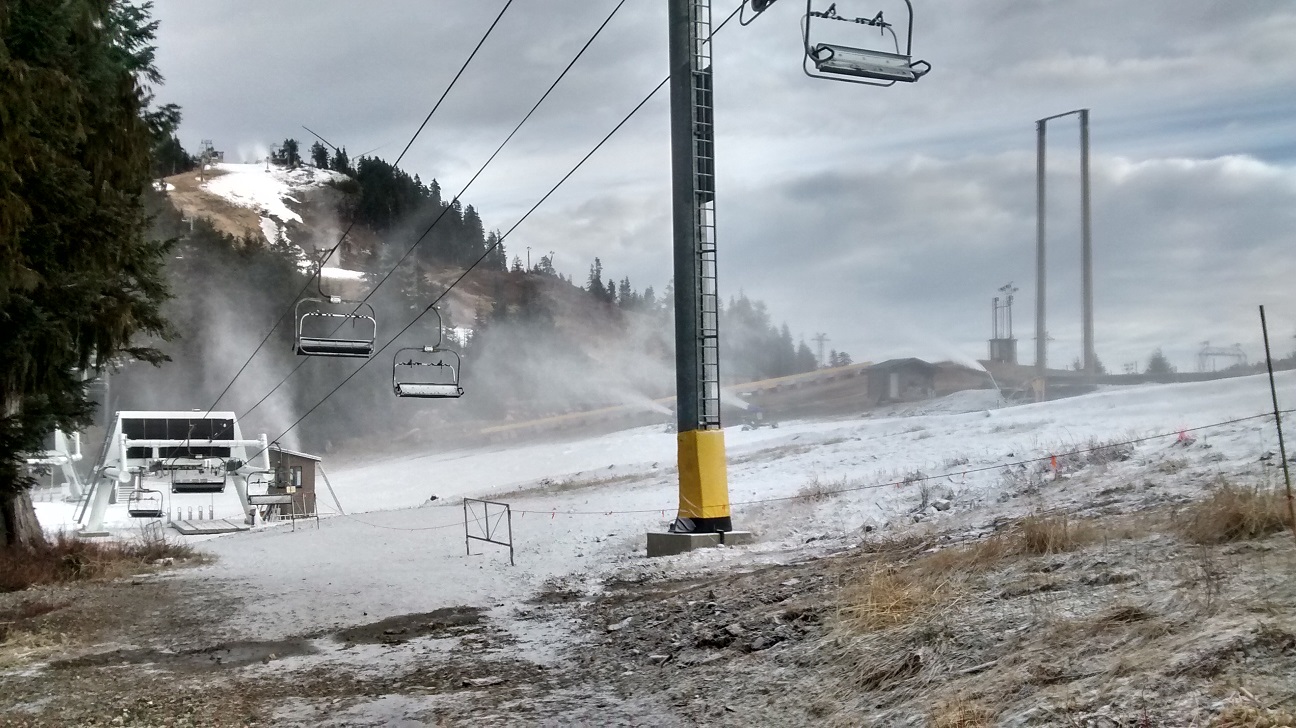 After having been shut down on Brunswick Mountain last weekend, I was itching to do some real mountaineering. My buddy Mike had suggested climbing Crown Couloir and I eagerly joined. Being lazy and wanting to sleep in we decided to take the gondola up Grouse. Arriving at the parking lot around 8:20, we made it to the top of the Gondola at 8:45 and began hiking out to Crown Pass. After Dam Mountain, the trail became snowy and icy, and crampons might have been a good idea, but we did without and were fine.
Things were fairly easy until the descent into Crown Pass. The route isn't hard, but the slippery snow certainly kept us on our toes, and further down there are several body lengths of class 2 climbing down rock which currently has bits of ice on it. Then we reached Crown Pass.
From here you leave the main trail and hike down into the top of the Hanes Valley area. I had read that this descent was particularly disliked. I actually found the top to be quite nice. The talus was suck together quite well and there was even a flagged route! Further down, however the rock quality deteriorates and the rocks become a lot more mobile.
At one point I caught my boot on something and fell forward, down the rocky slope. I managed to turn my fall into a somersault and rolled over my head and onto my backpack. A few "crap"s were uttered as I assessed the situation. As it turn out, the roll had spared my head from any blunt trauma and I had managed come out with only several scrapes on my face, a cut lip, a few bruises here and there, and a few more holes in my pants. I put on my helmet and we continued on.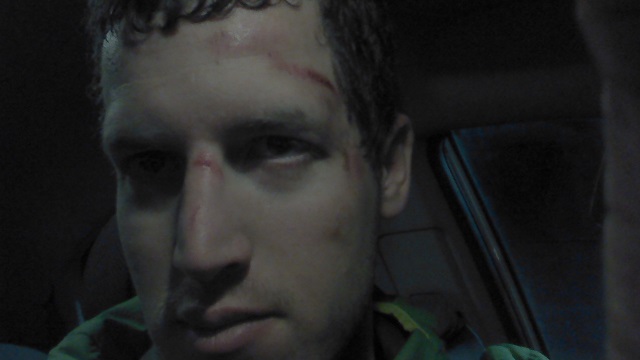 Near the bottom of the talus, you veer off to the left and go through some thorny bushes. The bushes really aren't very nice (leather gloves would be a nice thing to have on here) but it goes quickly. This is is the low point of the trip (literally). After this, you round the South East buttress of Crown and begin hiking up a boulder field. The boulder field makes for fairly easy and enjoyable hiking if you take the right path. Some of it is crumbly and dicey but it can be easily avoided.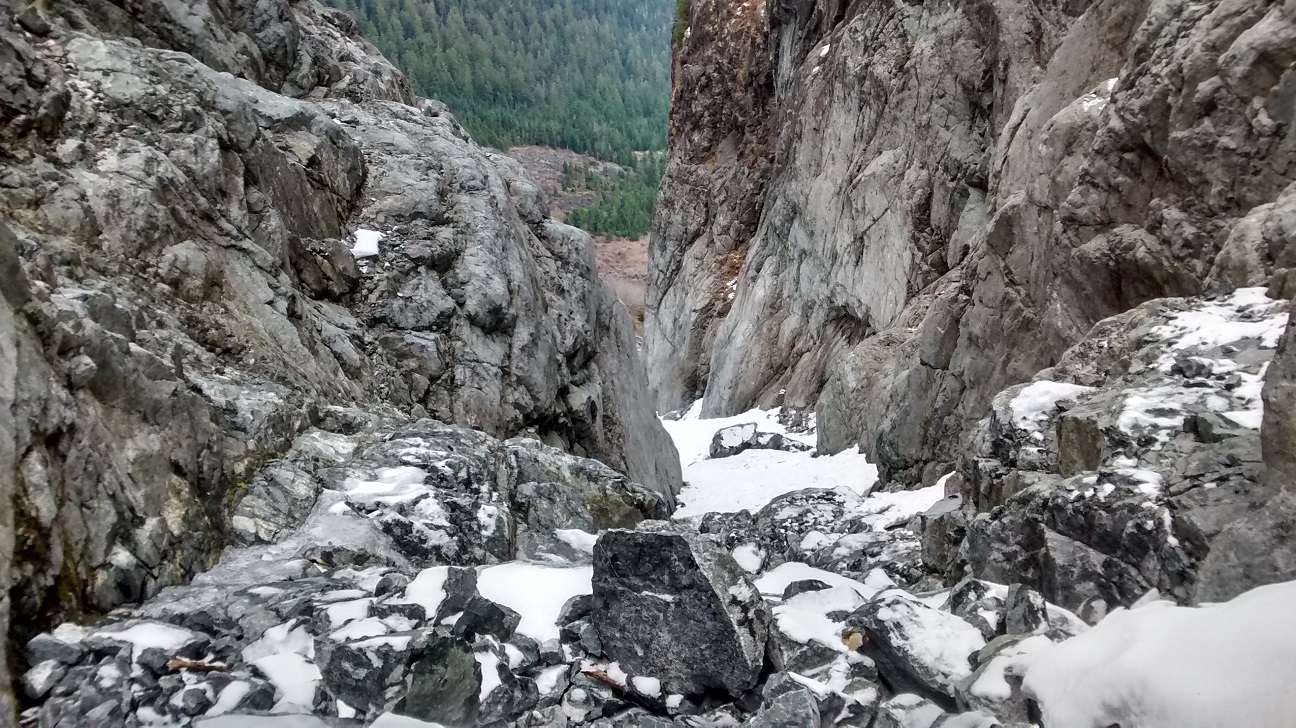 Eventually you reach the couloir. Currently there is a large deposit of snow at the bottom from an old avalanche, this doesn't last long, so it is best avoided by hiking up the rock on the side. A little bit later the snow starts again, and here you can either stay on the rocks or the snow. Eventually the couloir walls close in on you and you will be forced on to the snow. Putting crampons on before this point is highly recommended. We didn't and ended up with some pretty awkward climbing on icy snow.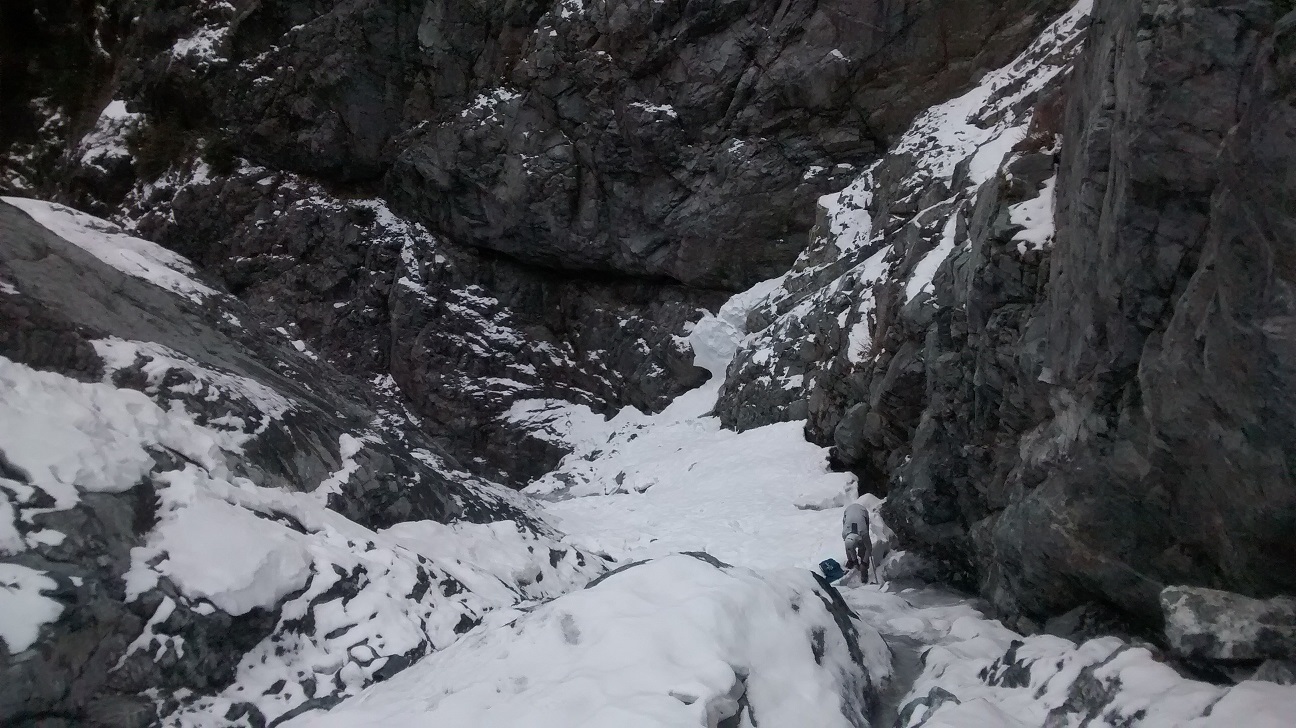 The crux is about halfway up. It is quite short, but involves stemming between some thin face on the right and intermittent snow on the left. After this, the route goes right. Another party who was ahead of us had chosen go to the left here and were busy belaying each other on some mid-5th and narrow snow ledges. From here the climbing is not very hard, and mostly fun (M2–3, leading to 30 degree snow). The top of the couloir puts you just at the base of the summit block, and at about 14:10 we had reached the summit.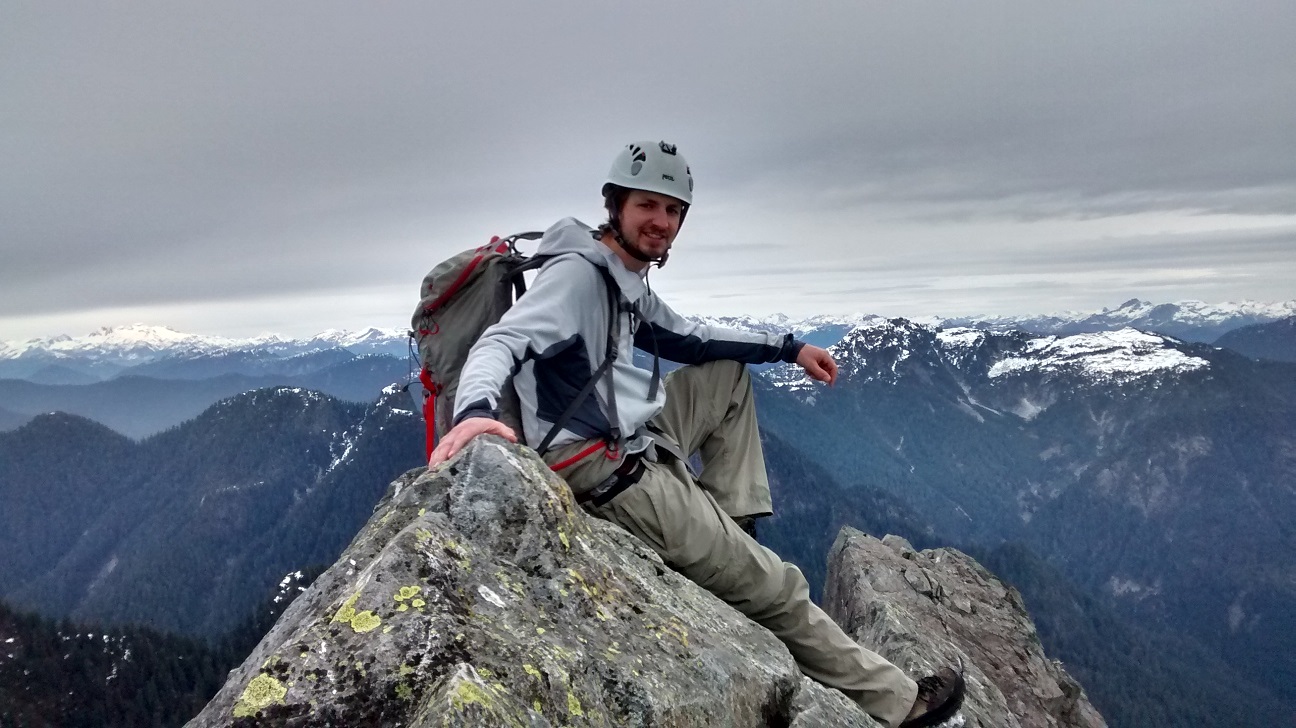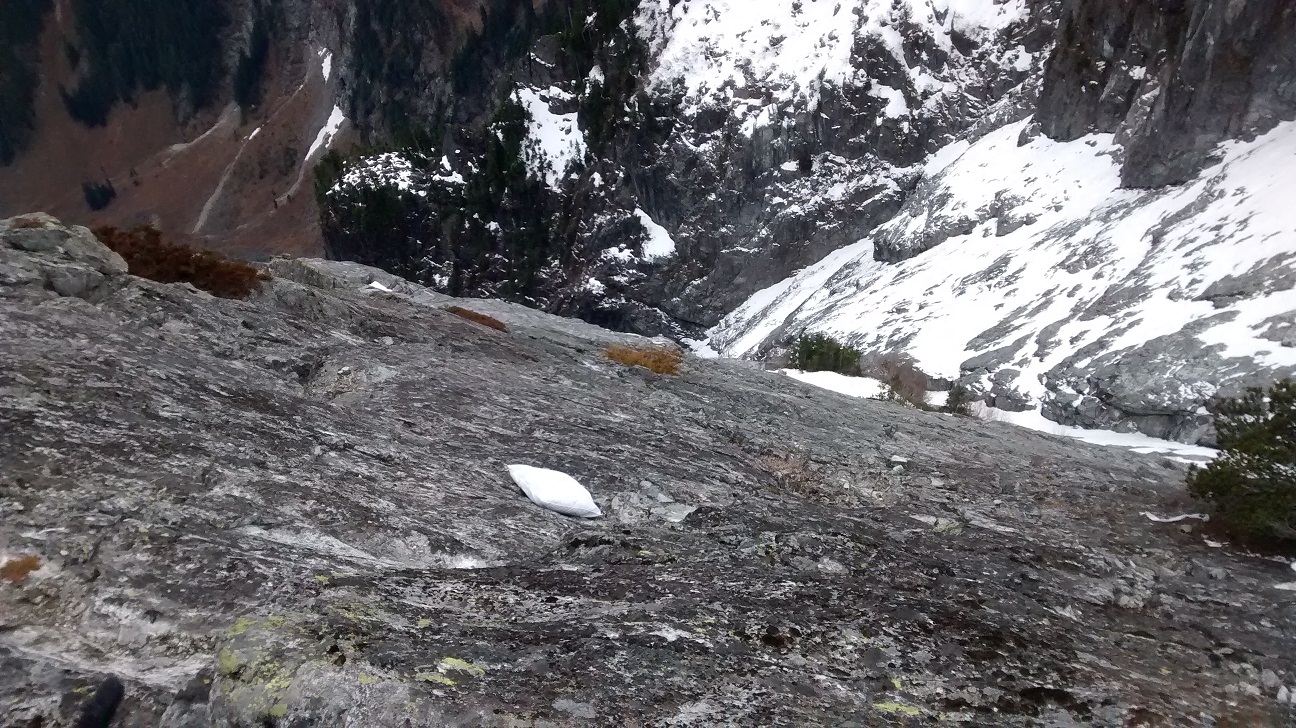 Just before we left the summit, we made contact with the other climbers by yelling across the mountain again (sound travels very well around there). They had been moving pretty slowly for the last 2 hours and weren't that far above where they were before. We asked them if they were okay and they said yes, so we sauntered off down the regular trail. I guess they were a little bit too optimistic, because the next day I heard about them in the new.
On our way down we found some of our friends who had been climbing Crown Buttress. One of them had fallen and was immobile with a sprained ankle. Search and Rescue was on the way. We chatted for a while and continued down.
Post trip
The guy with the sprained ankle got long-lined out by a helicopter and as far as I know is doing well. Once I got home I got a call from another friend saying that Search and Rescue was looking for those other climbers. I called Mike Danks and gave him all the info I knew about their location, and a photo of the last ledge we saw them on. The next day I heard about them on the news. I don't know how their rescue went, but it must have been pretty harrowing.
Gear Notes
We brought twin ropes and some rock gear. It ended up staying in our packs. Unless you are very confident with your snow climbing abilities, you should bring pickets and maybe ice screws, but large parts of the route may be impossible to protect because the snow/ice just isn't thick enough.