"Blow, blow, thou winter wind"—Lord Amiens
August 22
We arrived at the Keflavik airport at 7:00. The weather was overcast with a brisk breeze. Little did we know that the breeze is unusual in Iceland. As we learned a few days later, it is usually more of a gale.
We were picked up by a person from Sadcars where we were driven to their place, stood in line for a while, and eventually got a car. A little bit later, we were all packed into a little Hyundai and I was trying to remember how to drive a stick-shift while we made our way along the little Icelandic roads.
Our first goal was to try to get some stove fuel and some food. The first grocery store we stopped at didn't open till 10:00. A little weird, but maybe that was just because it was rural. Then we tried a shopping center in the south end of Reykjavik. It didn't open till 11:00! Great, do people in Iceland even realize that the sun rises earlier in the summer and they can stop sleeping in? We went on our way, hoping to find food somewhere before we starve to death in this new land.
Due to the time change we had more-or-less completely lost a night if sleep, and a noisy uncomfortably airplane ride had not done anything to help that. As it was, we spent the rest of the day slowly driving towards Skaftafell, stopping every hour or two to pull off and have a nap on the side of the road. Eventually we found some food, and even some stove fuel. Life was good. We got to the campsite about 17:00, and got our tent setup just before it started raining. We ate a quick dinner of ramen noodles, tuna, and lettuce; and settled into our cozy sleeping bags for the night.
August 23
Our plan today had been to climb Hvannadalshnúkur; however, when we got up in the morning to leave at 6:00, we found that the campsite was gated. Shortly after that, it began to rain, so we crawled back into our little tent and slept a bit longer. Due to being unable to find a way out of the campsite, we didn't really have enough time for our original plans, so we decided to try climbing Kristínartindar instead.
We headed up the Lambhagi trail, stopping shortly by a few waterfalls along Stórilækur creek and an old hydroelectric building. At first we were all alone, but after a few drops the lower trails were crowded with people. Once we left the lower trails though, no one followed, and we on our own again. After this the trail ascends through some heather. Part way through it started to rain on us, and the wind picked up. By the time we reached the good viewpoints, it was impossible to see anything. We bailed on climbing Kristínartindar and just ended up hiking around Skaftafellsheiði. On the way out, we went down the Austurbrekkur trail, but contrary to the advertisement of the Vatnajökull park website, we saw no elves.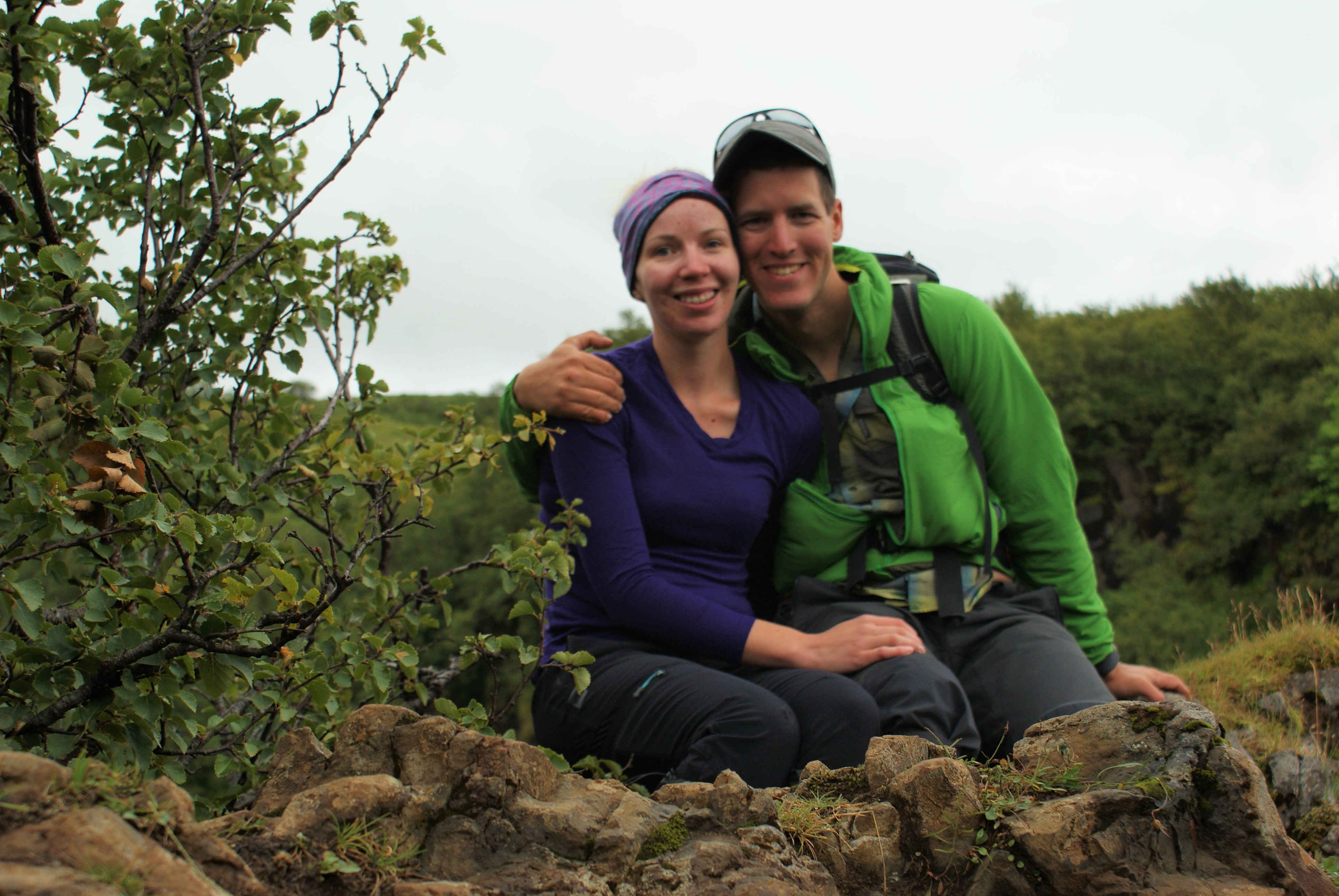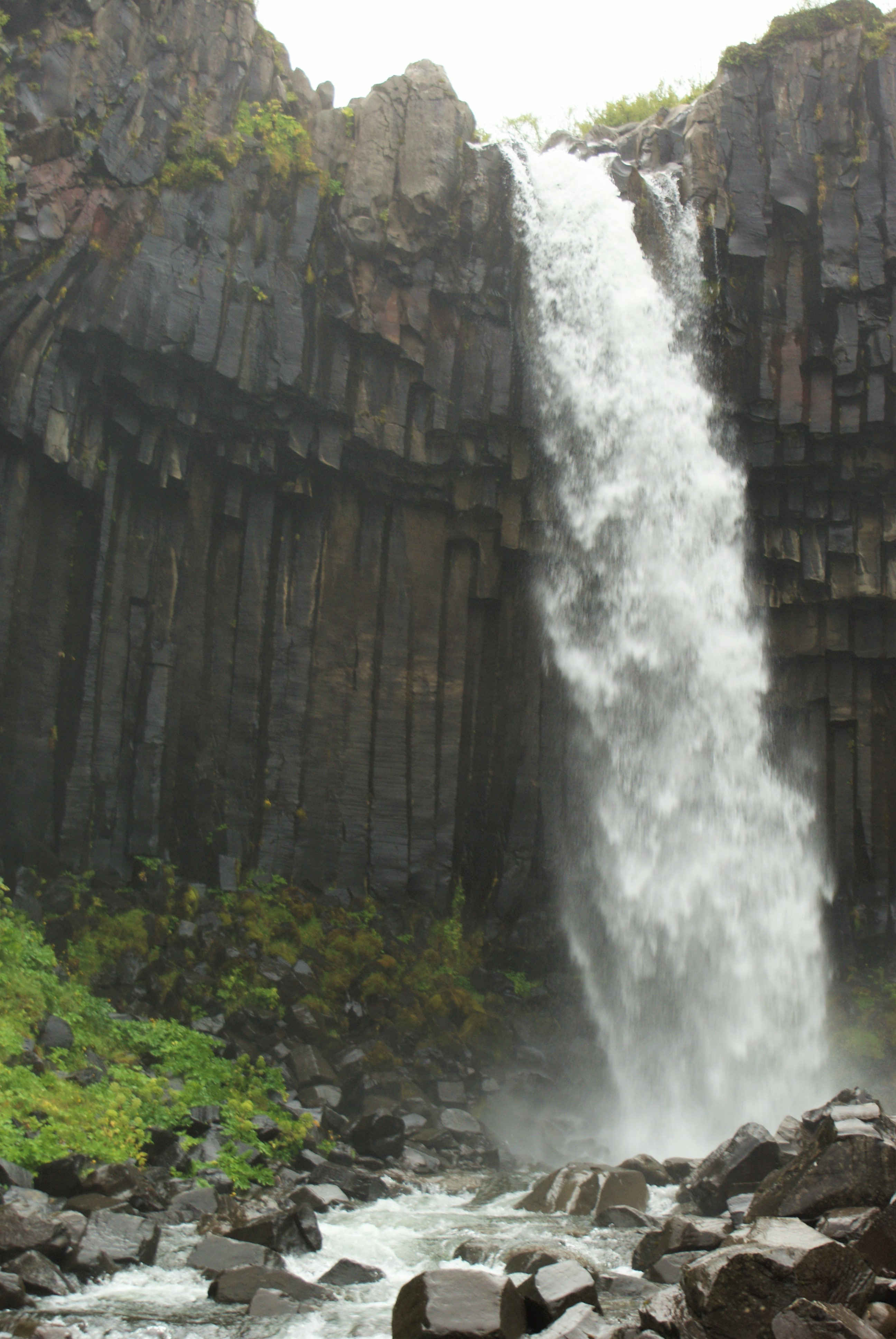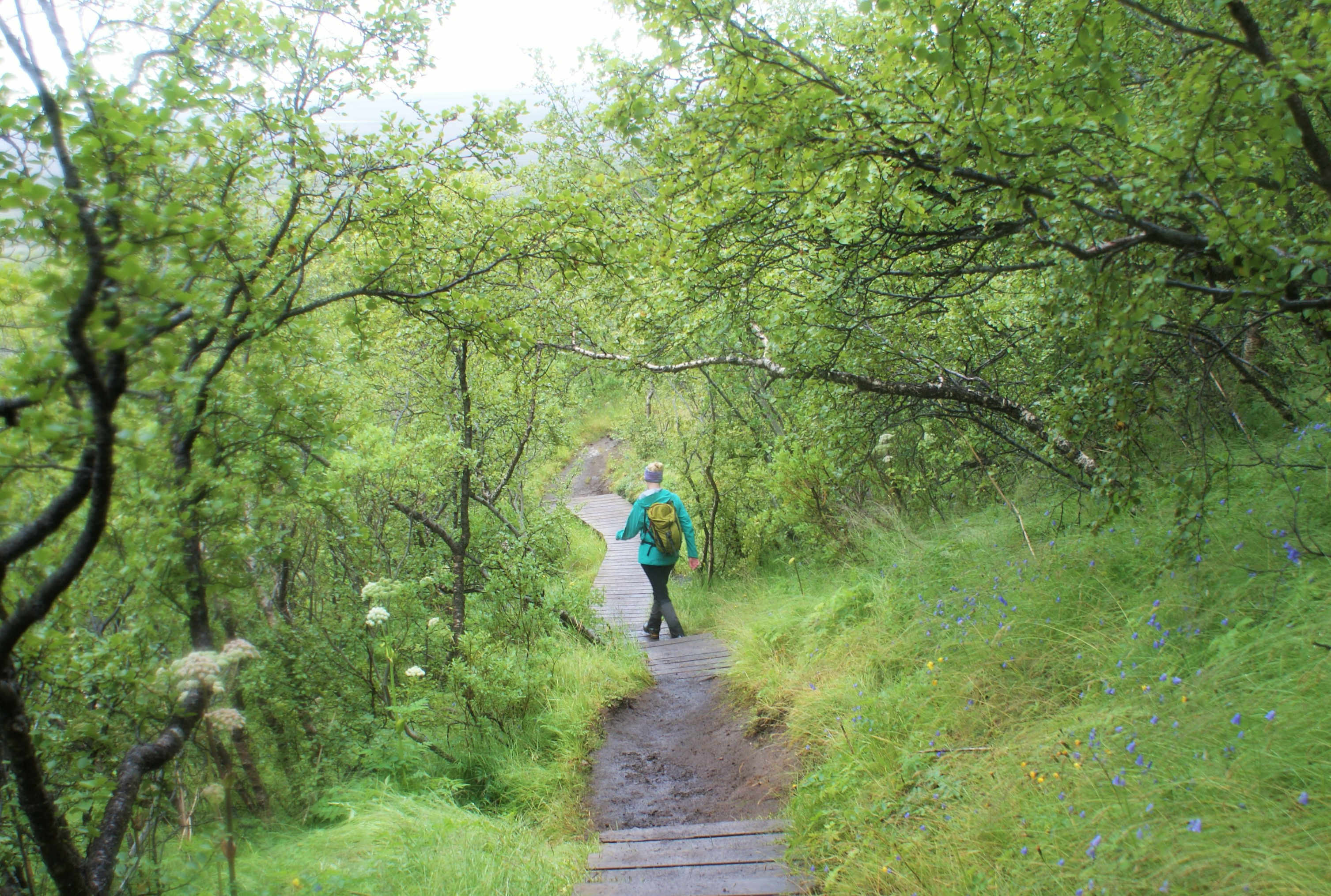 Once we were back at the campsite, I inquired about the gate, since we needed to leave early the next morning. Turns out you just need to drive up to it, and it opens automatically from a sensor.
After that, we went and had some burgers at the nearby shop in Freysnes, and then drove to Jökulsárlón: the lake where Vatnajökull meets the ocean, and breaks off into icebergs. On the way back, we took photos of indignant sheep showing us their backsides.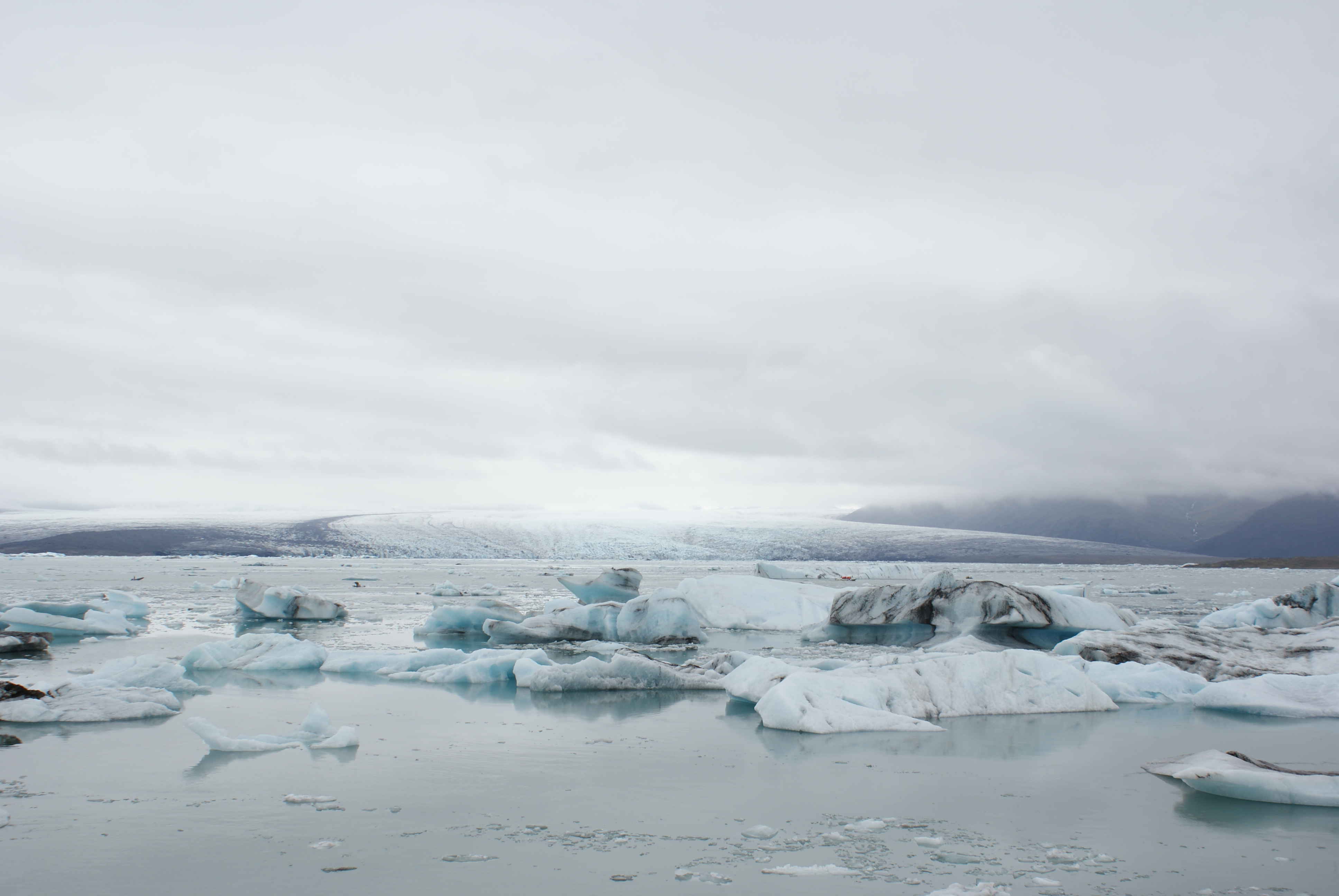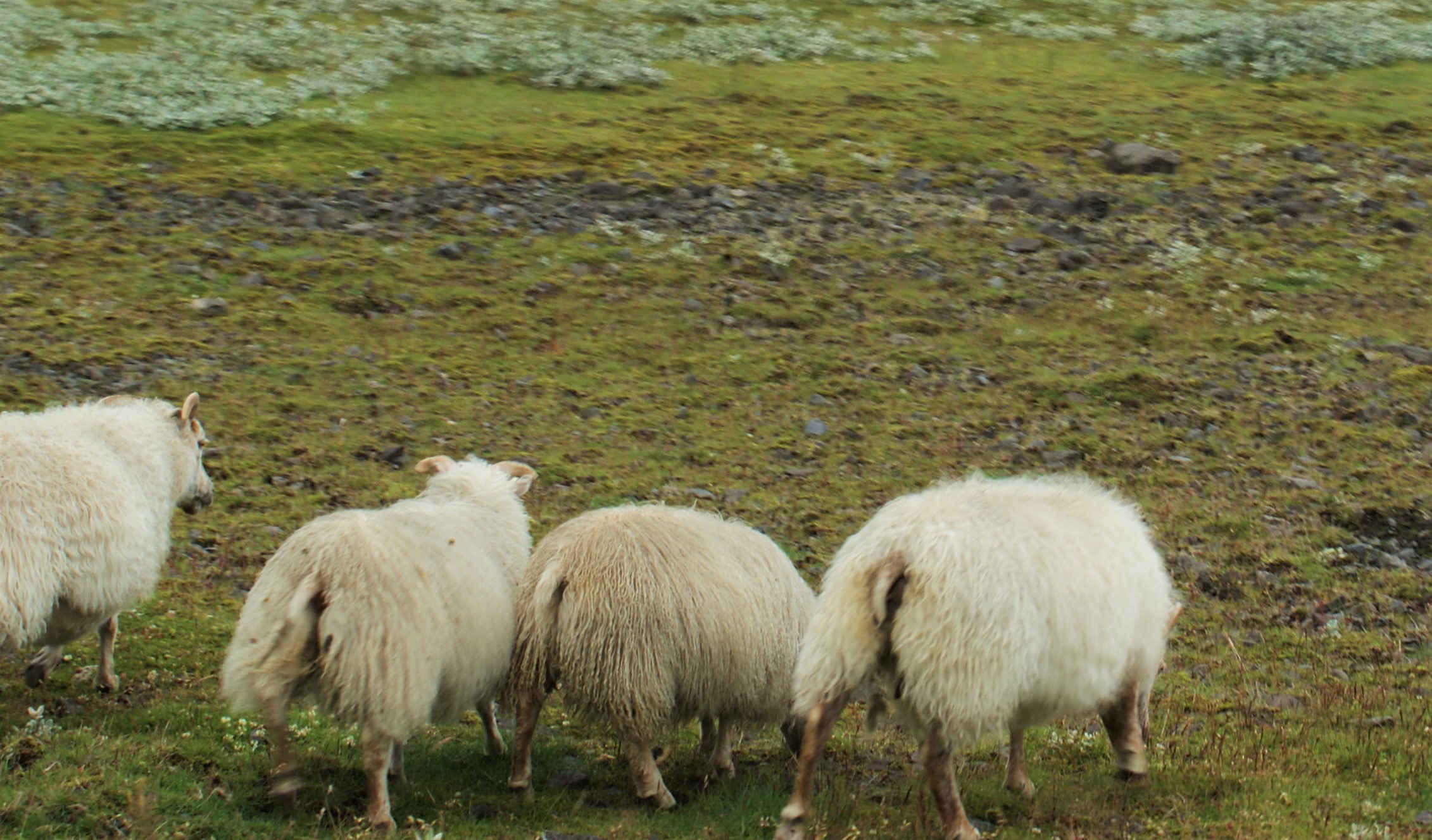 August 24
Today we woke up around 4:30, maybe still a little jet lagged. With our new-found knowledge on how to escape the campsite, we packed up and leave for the canyon of Fjaðrárgljúfur. Both of us decided that the vegan "cheese" paste was really no good at all, and the mushrooms smelled funny, so we were left with eating a bunch of tomatoes.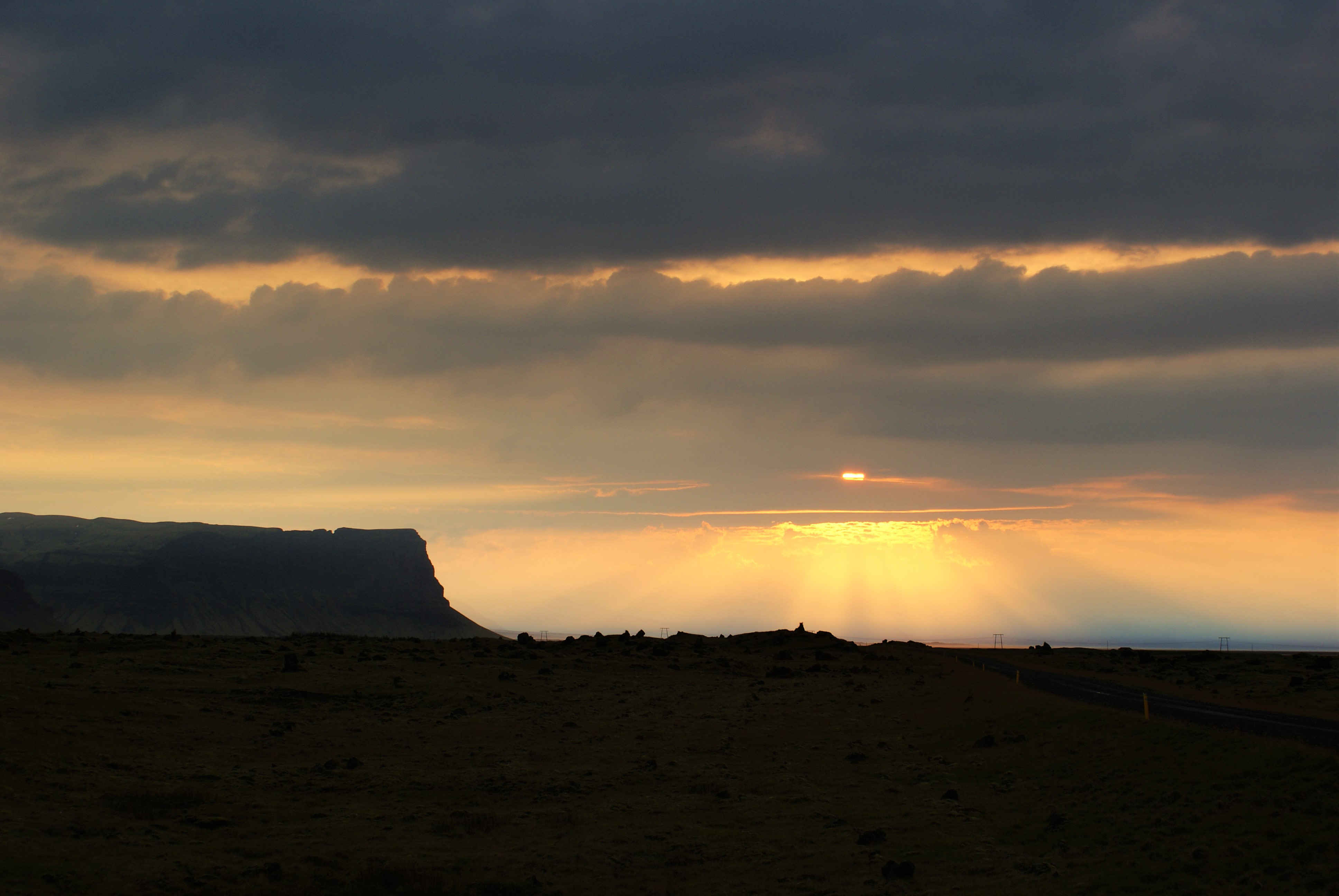 We went to Fjaðrárgljúfur. Like much of Iceland, this also looks like something from a Dr Seuss book—only more clouds and less sun. Fjaðrárgljúfur is full of brown clay/sandstone towers covered by tuffs of green dirt.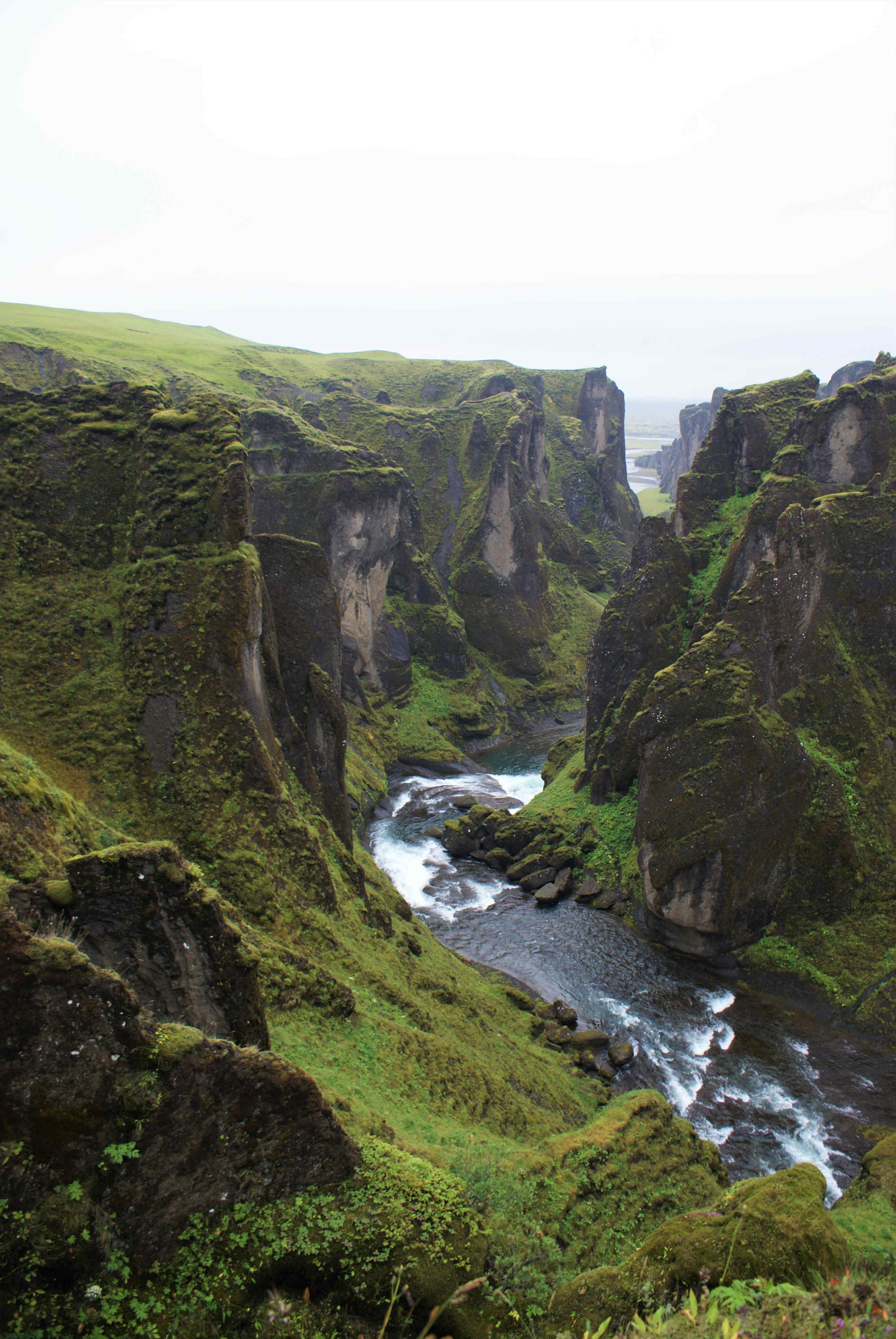 After this we drove to Vik, got gas, and eventually found an open for place and had a most delicious pastry. Our goal here was to visit , and find a few puffins. What we found was a lot of wind, a bunch of rain, and a few puffins. We took some pictures and went on to our next stop: Vestmannaeyjar.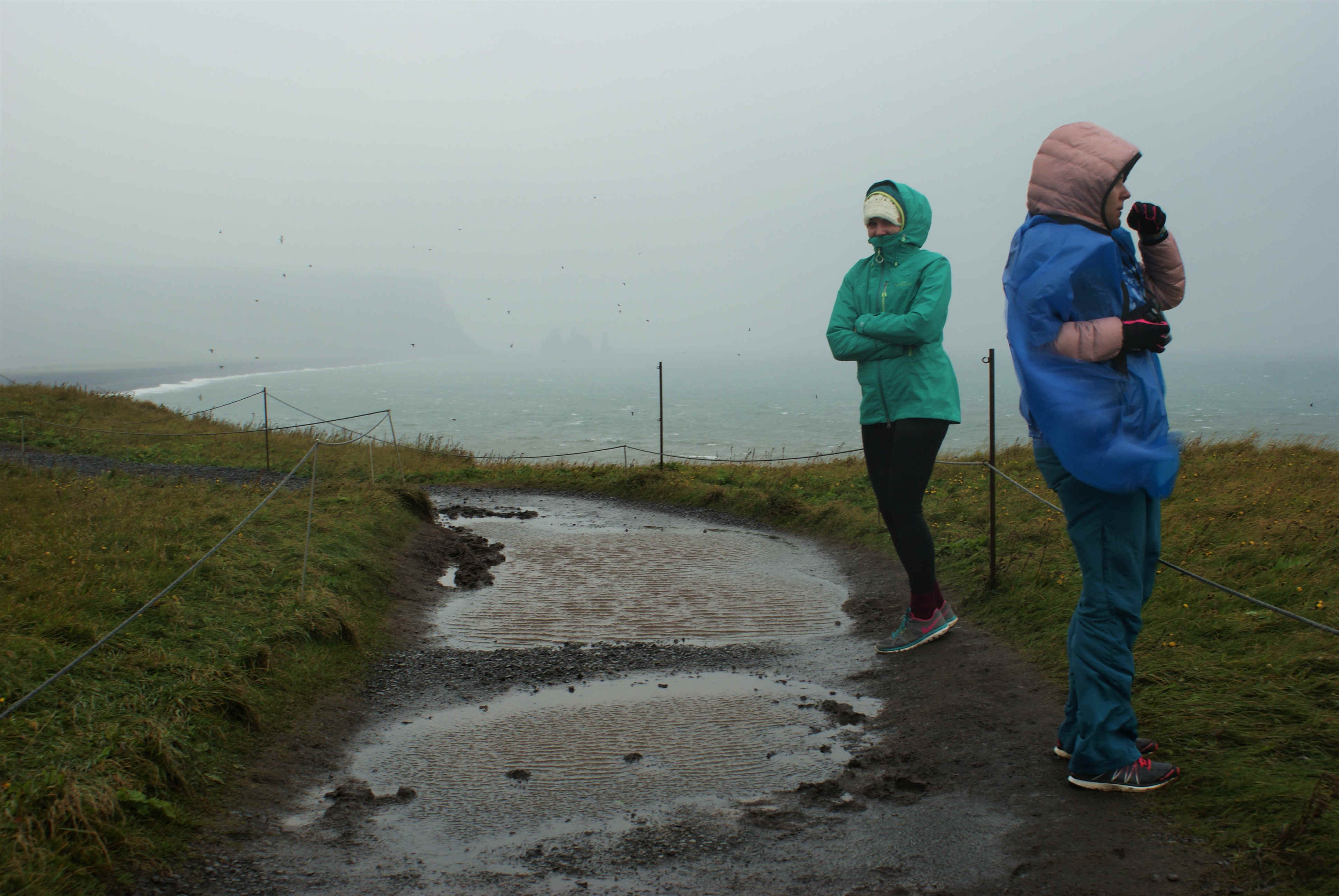 Vestmannaeyjar
From Landeyjahöfn there is a ferry to a cute group of islands called Vestmannaeyjar. A beautiful place to visit, but maybe not the best place to live since the small island's few volcano seem to have a habit of erupting.
Our first destination on this island was a step hill (really mostly a big bunch of cliffs) called Heimaklettur. Heimaklettur is an Icelandic term meaning "slipping on sheep shit"—not really, but it should be, since avoiding this is the most difficult part of the climb. Heimaklettur is steep and, from a distance, the existence of any trail seems improbable; but a few ladders at the base of its western cliffs reach a lookout, and from there the narrow tail climbs up a steep grassy slope. The difficulty of the hike does a good job of keeping humans away, and a good number of sheep and puffins make their home there.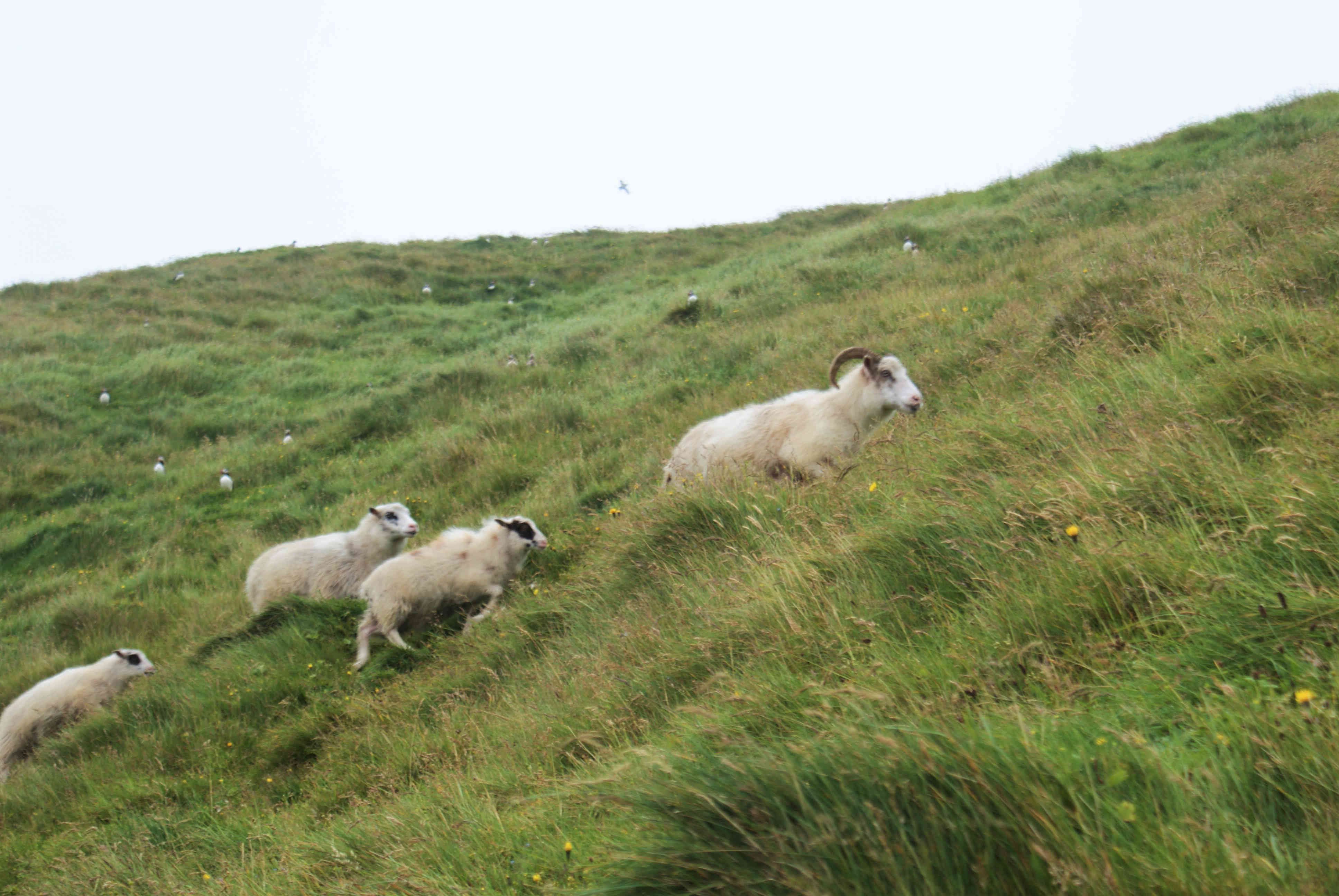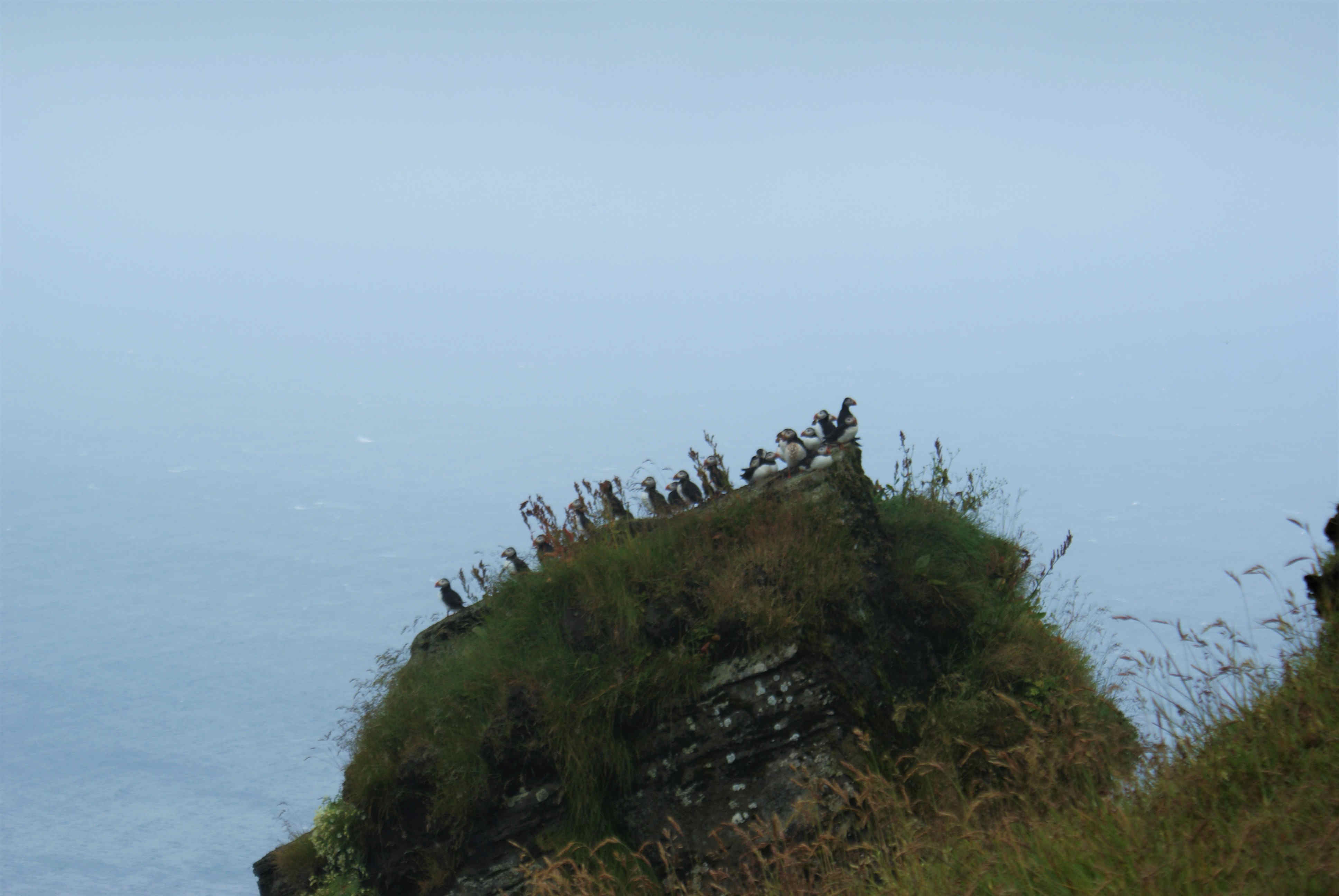 Once we got down from there, we proceeded to look for food establishments. Found a bunch of expensive ones, also found some unusual puffin artwork. Eventually we settled on a cute little place named Gott, ate fish soup, and then dragged our tired bodies back to the ferry.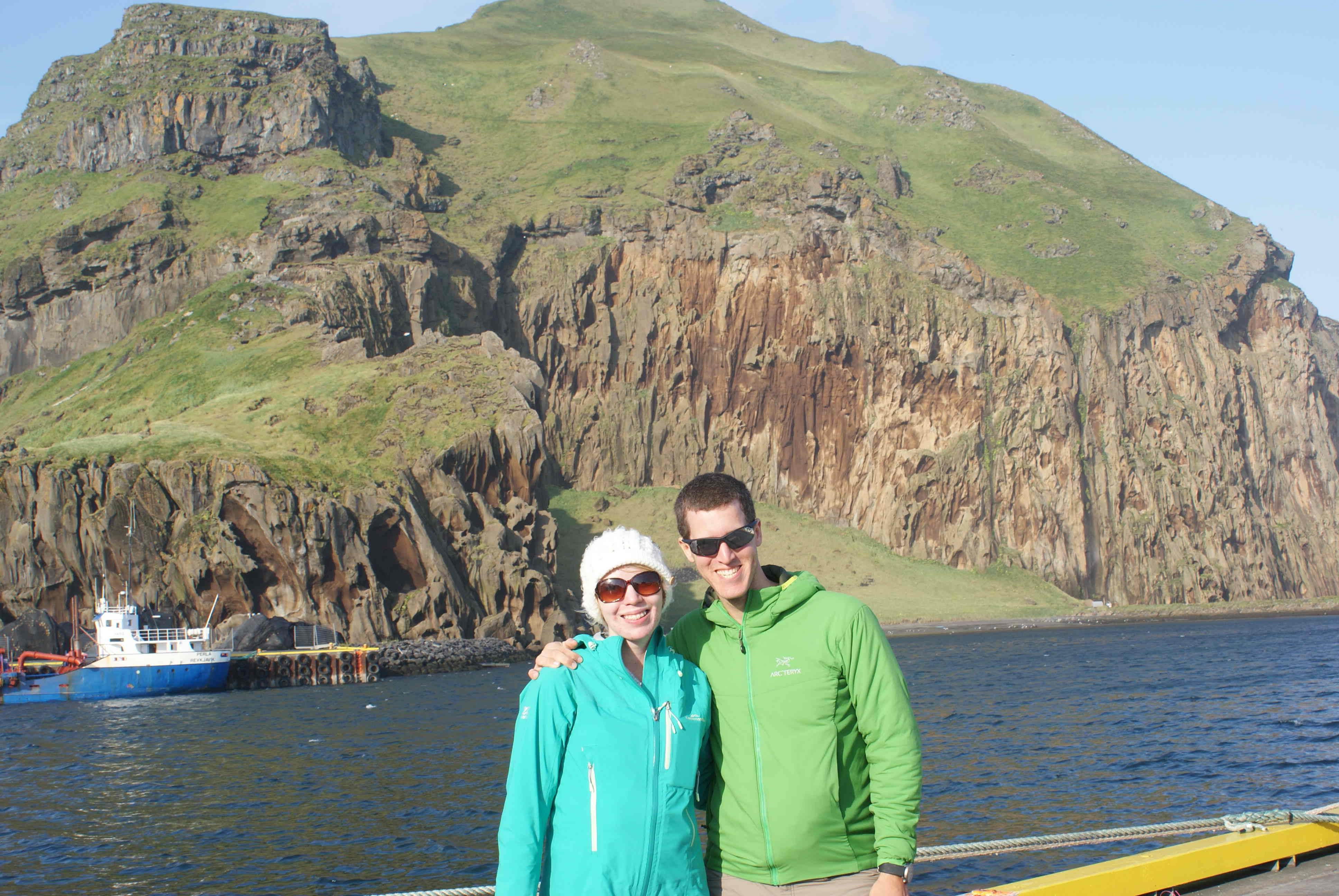 That night we camped in Skógar. We couldn't find anyone to take our money and ended up camping for free, which was fine for us because the campsite was really not very nice. Also, it was windy that night— really windy.
August 25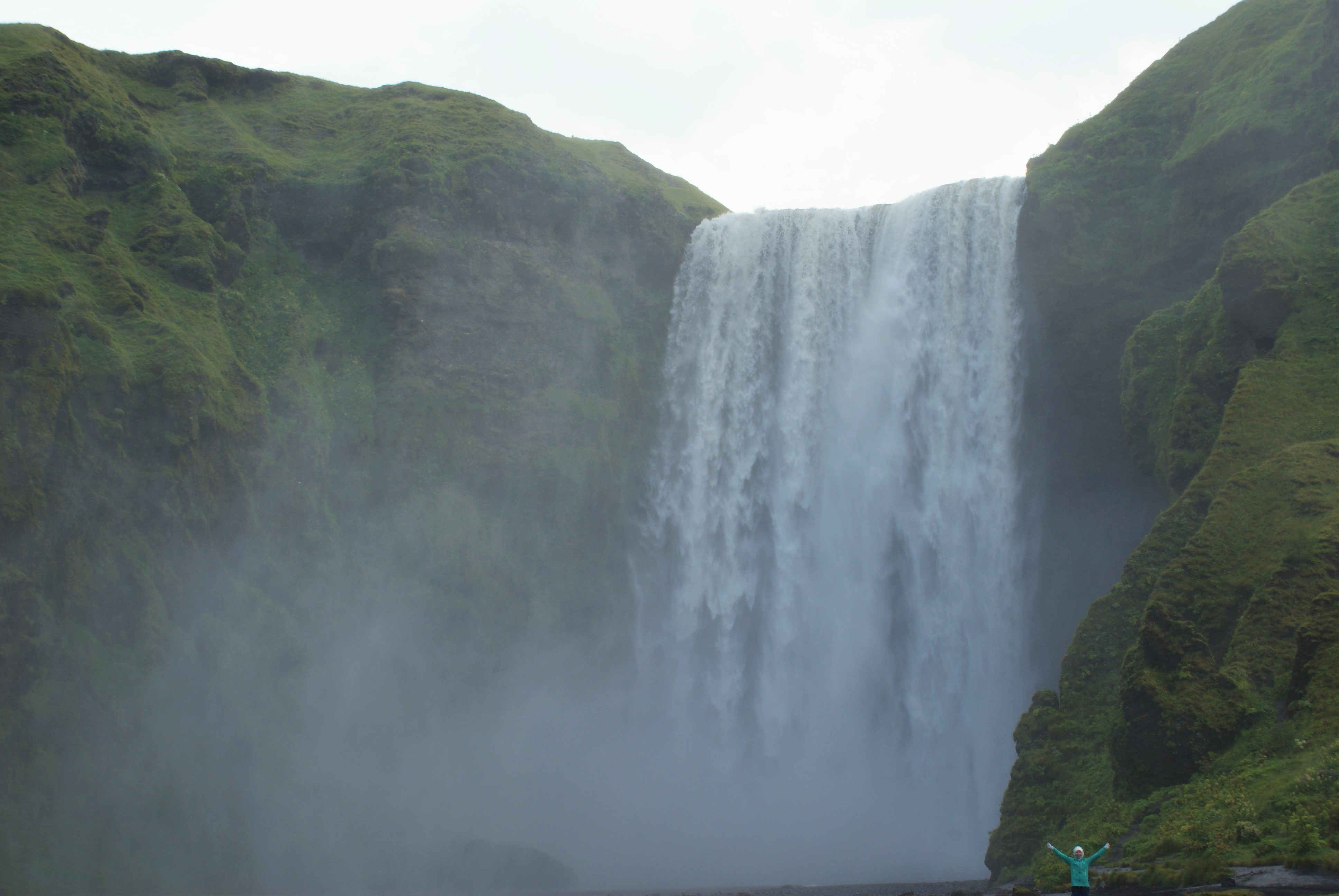 Fortunately we woke up alive, and the tent was still okay. Neither of us had gotten a great sleep because of all the noise that the wind made. We packed up our tent, which was an interesting endeavor. The inside had collected some dirt and grass and needed emptying, so I hoisted it up, to shake it out, and nearly got carried away like a paraglider.
From there we went to the museum in Skógar for coffee and pastries and then headed of to go swimming at Seljavallalaug. Seljavallalaug is an old outdoor swimming pool located in a valley of the south side of Eyjafjallajökull. The scenery in the area is tremendous. The pool is warmed up by water pipped in from nearby hot springs. The result is a pool that is about 30–32°C, and a bit warmer if you huddle around the water that is pipped in.
After swimming for a bit, we set off to go visit some legitimate tourist sites: Gullfoss and Geysir. Both of them are located in the highlands south of Langjökull, and when driving up route 30, you can see the vast expanse of glacier. Gullfoss is a big waterfall, kind of like Niagra falls. Geysir is a big geyser; but unless you go there during, or shortly after an earthquake, it's not very interesting because it doesn't like to erupt. There's another nearby geyser named Strokkur, however, which erupts every 5–10 minutes or so, so we joined the crowds around it and watched it erupt a few times.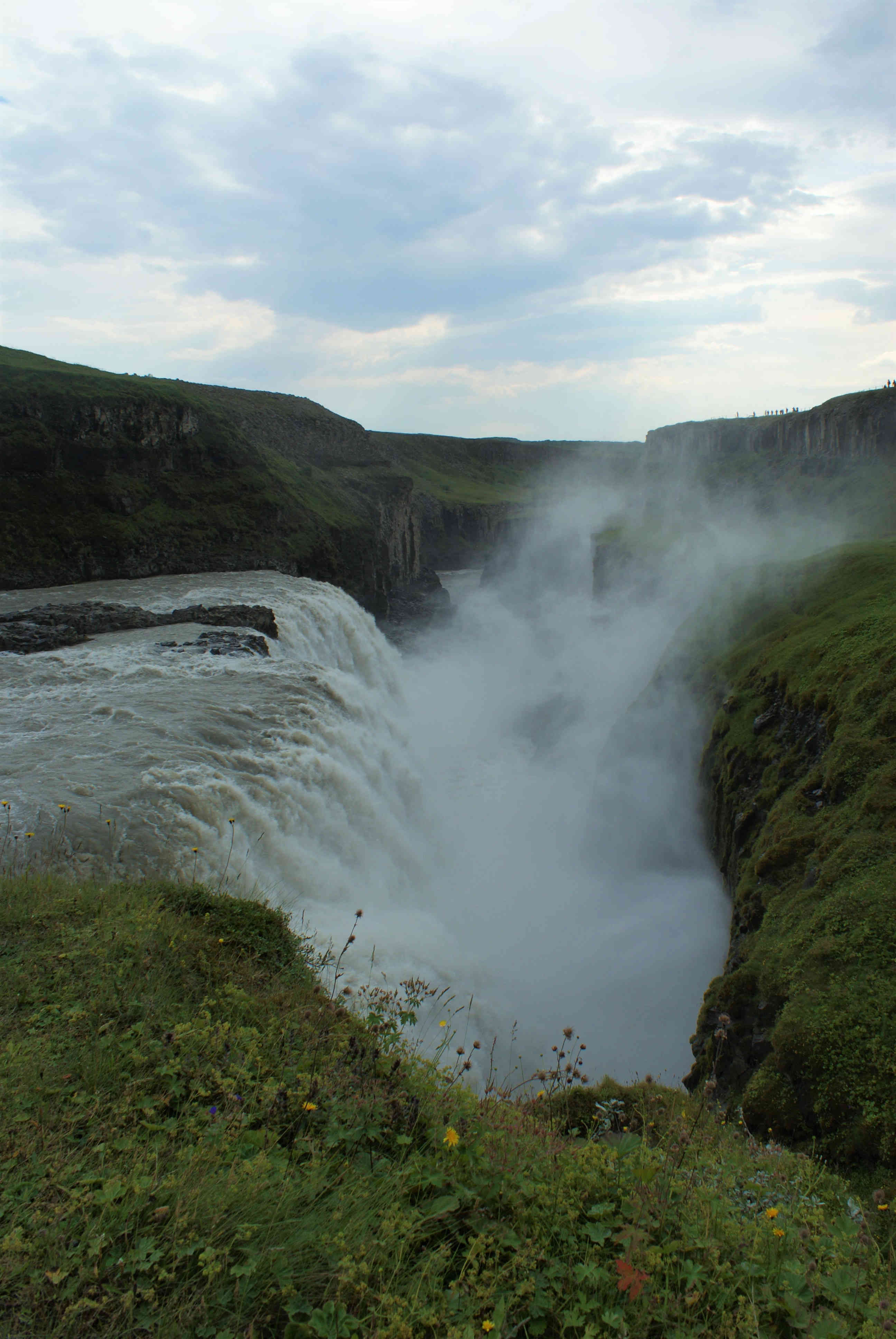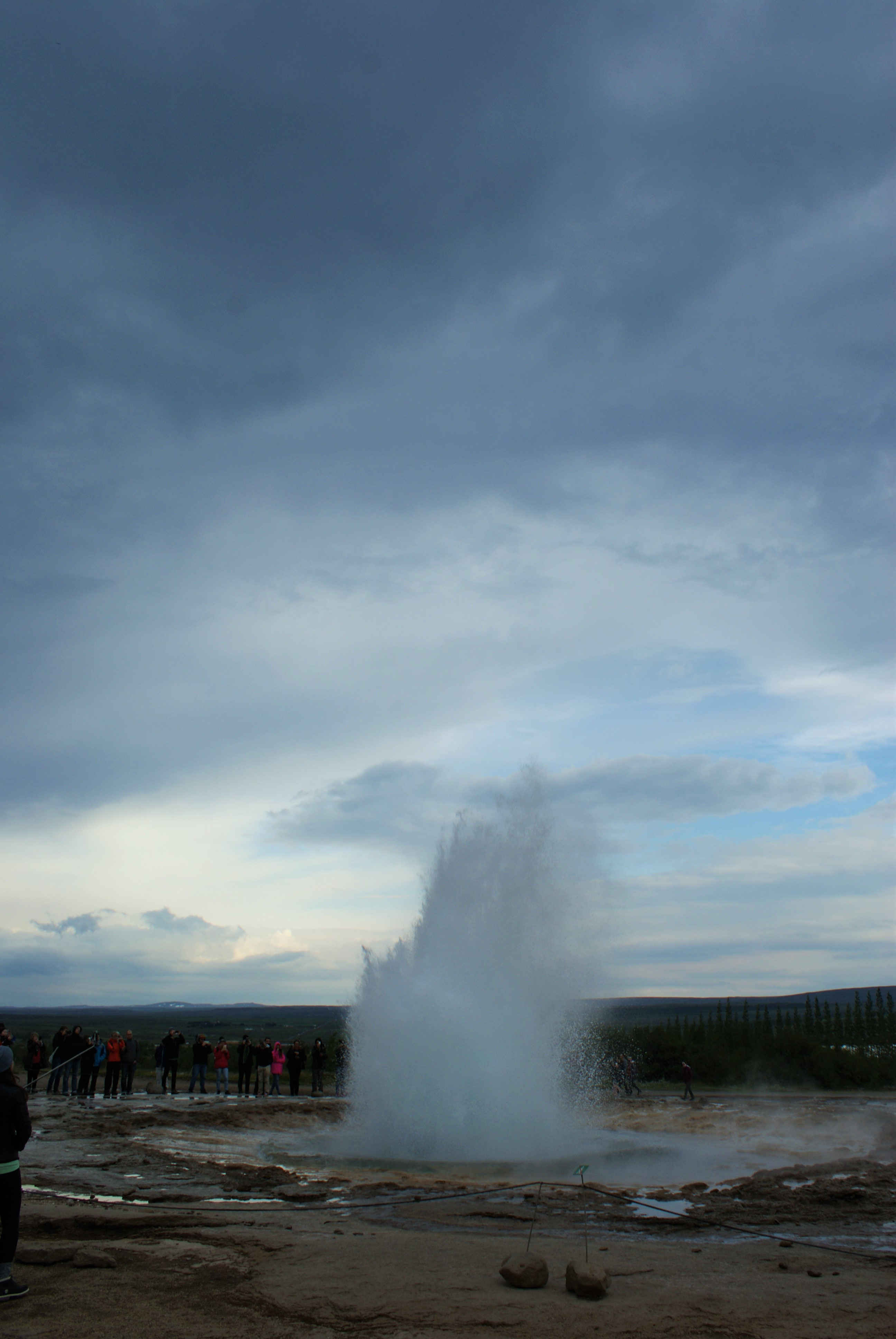 After that, we had to figure out where to stay. We'd seen a sign for a campsite with a pool nearby on our way up, which seemed really nice, but it was down in Brautarholt, which was out of our way now. We set out to see if we could find another such place. The first place that our GPS found was Laugarvatn, but the campsite area there looked closed, and the main swimming place looked fancy and over-priced. The next place we found was the town of Borg í Grímsnesi. The campsite there was almost completely empty, and again, we were unable to find somebody to pay.
The pool there was very nice. We'd never been to a public pool in Iceland before, but they all have hot tubs, and multiple ones at at different temperatures. You have to wash yourself quite thoroughly before entering, so the hot tubs don't have to be so full of chemicals. We relaxed there for a while before going back to our tent to have a yummy dinner of rice and a spicy goulash.
August 26
The next morning we got up and made some breakfast and coffee, and headed off for Þingvellir, or Thingvellir when anglicised. This is the place where the AlÞing ("all-thing"), 1 or the Icelandic Parliament, meet back in the early days of Iceland. Þingvellir is kind of interesting. There is a cute little church, and a fancy cross-shaped cemetery; though there are only two graves in it, they seem to be having trouble finding occupants. Also, there's some neat-looking cliffs that I wished I could climb.
From there, we headed toward Akranes. On the way there, we drove through this big long tunnel underneath Hvalfjörður, it was about 6 km long. We were going to climb up Akrafjall, but ended up being lazy and wanting to go to our hotel early, so we went to go visit the Glymur waterfall instead.
Glymur is a a really tall waterfall, nestled in a canyon at the end of the Bostnsdalur valley. Visiting it involves about an hour long hike. Of course, such is our luck, that after about 40 minutes of hiking up, it starts raining on us. We raced up to the viewpoint, took a few photos and raced down. By the time we were back at the car though, we were pretty drenched, and very happy that we had booked a hotel for this evening.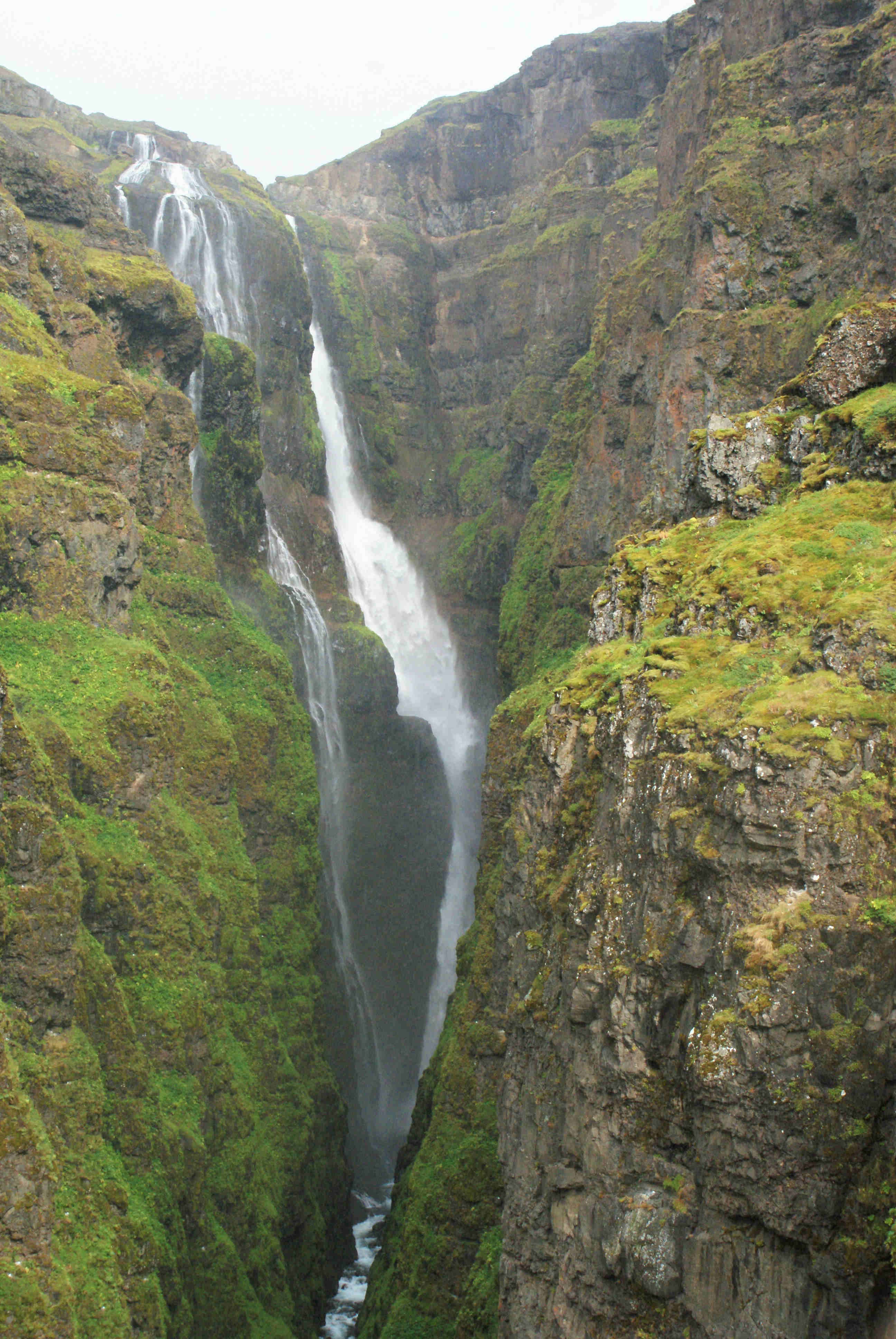 We drove up to Hraunsnef where our hotel was and got there about 17:00. We settled in for the evening with some cracker/tuna/lettuce snacks for dinner, and lots of hot chocolate. That night we could hear the wind howling outside, and the cars were bouncing a little from the gusts of wind.
August 27
After a very nice sleep, we woke up and ate a breakfast buffet at the hotel restaurant. It was probably over-priced, but we were hungry, so it tasted good. From there, we hopped in our car and drove to Snaefellsnes to check things out. We first stopped in Grundarfjorður for groceries and gas, and then went to the tourist information place in Ólafsvík to get advice on the weather and the condition of route 570, the road up to Snaefellsjökull (a mountain we were hoping to climb).
Unfortunately, the weather forecast wasn't that promising. Given that the weather was going to be mediocre anyway, we figured we'd just go stay in our car and check out route 570. We were actually able to drive up quite high. We drove back down the mountain and around the other end of the peninsula to Arnarstapi.
We had originally thought we might want to rent bikes in Arnarstapi, but it was windy enough that if you tried to get on a bike, you'd probably just be knocked straight off. We walked around for a bit and headed back to Ólafsvík for our favorite activity: siting in hot tubs. We went to the pool there and chatted with a bunch of Albanian soccer players who where there for some national championship. They though Ólafsvík was the most boring place in the world because there were no good bars. After that, we went to the campsite, which was really nice and had a small building with an indoor cooking area. Unfortunately, our dinner of pasta and meatballs was miserable. The pasta was fine, but the canned meatballs reminded me of that barely edible protein-paste that they have in sci-fi shows.
August 28
Since Snaefellsjökull is not a terribly long climb, and since we knew the weather was not going to be any better in the morning, we slept in a little. We got up to pack up camp and had breakfast. We drove up and got to the end of the road, but unfortunately the weather wasn't any better. We walked about for a bit to check things out, but in the end we decided to bail due to high winds and poor visibility. We drove down a bit and hiked up some small 495 meter peak as a consolation before driving back to Ólafsvík, and then to Grundarfjorður.
I had been wanting to climb Kirkjufell, since it looked so cool. 2 We had the whole afternoon free, so while we were a little unsure about the weather, we decided to give it a try anyways.
The first difficulty is they very short approach from the road to the base of the south ridge which also happens to be somebody's sheep farm. Based on a little bit of research I did, it seemed that what we might call trespassing is completely acceptable in these parts. The farm is surrounded by a short wire fence, and based on our complete lack of experience with electrical fences, we were a little concerned that it might be electrical. I gingerly stepped over it, and Dorothy successfully jumped, and we rambled up through the meadows.
At least by the way I went, there is no defined path at the beginning, by the time you reach the first cliff band, there is a faint, definable path. The climbing is very fun. The trail meanders up between various weaknesses in the cliff bands that surround the peak: starting with easy sections of class 2 (YDS), and progressing to several steps of class 3 climbing, with the final class 4 step right before the summit ridge. Each of the class 3/4 steps has a fixed rope on it, but these ropes look they are as old as the Vikings, so they're really only good as "physiological pro", climber be ware!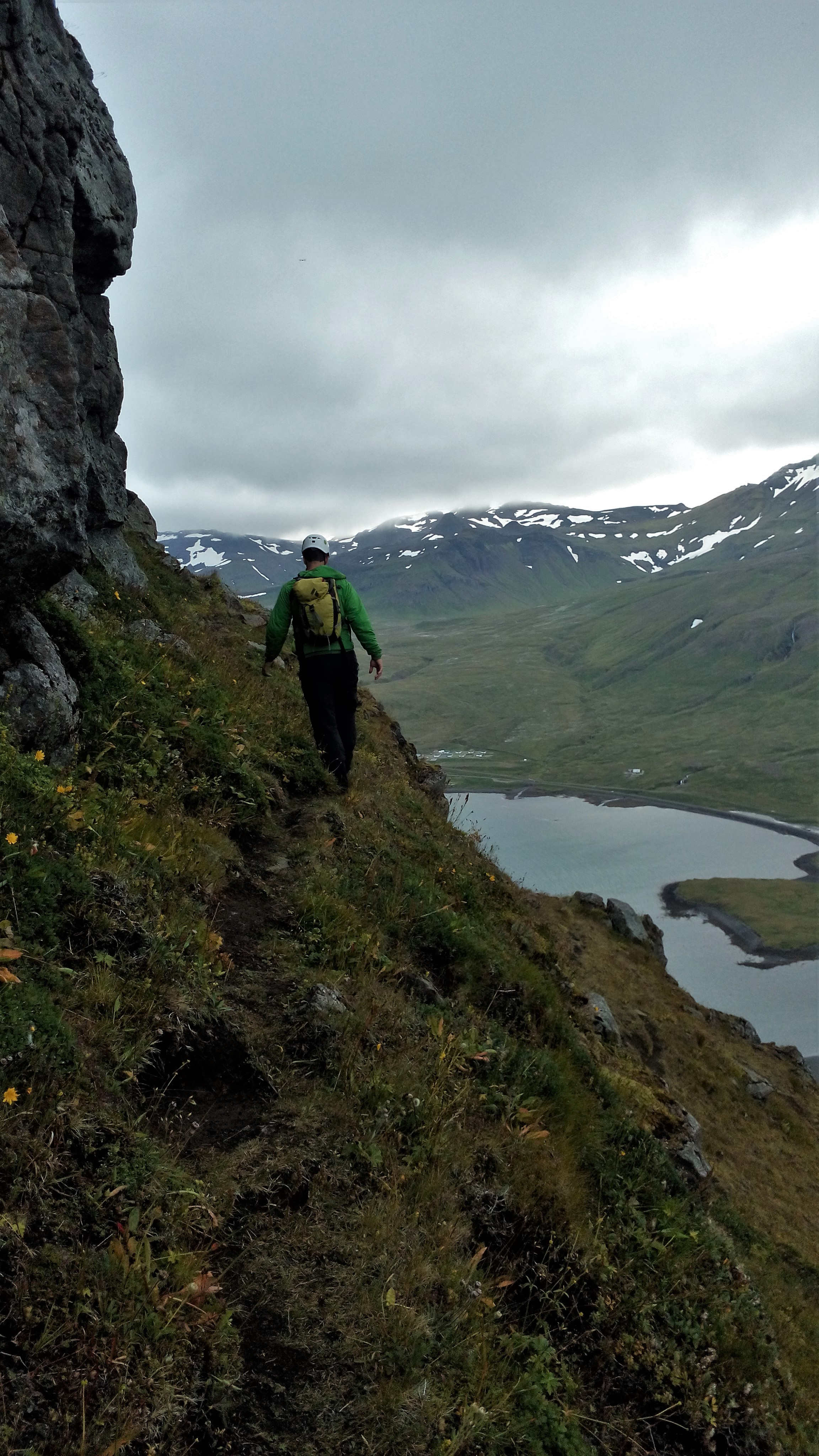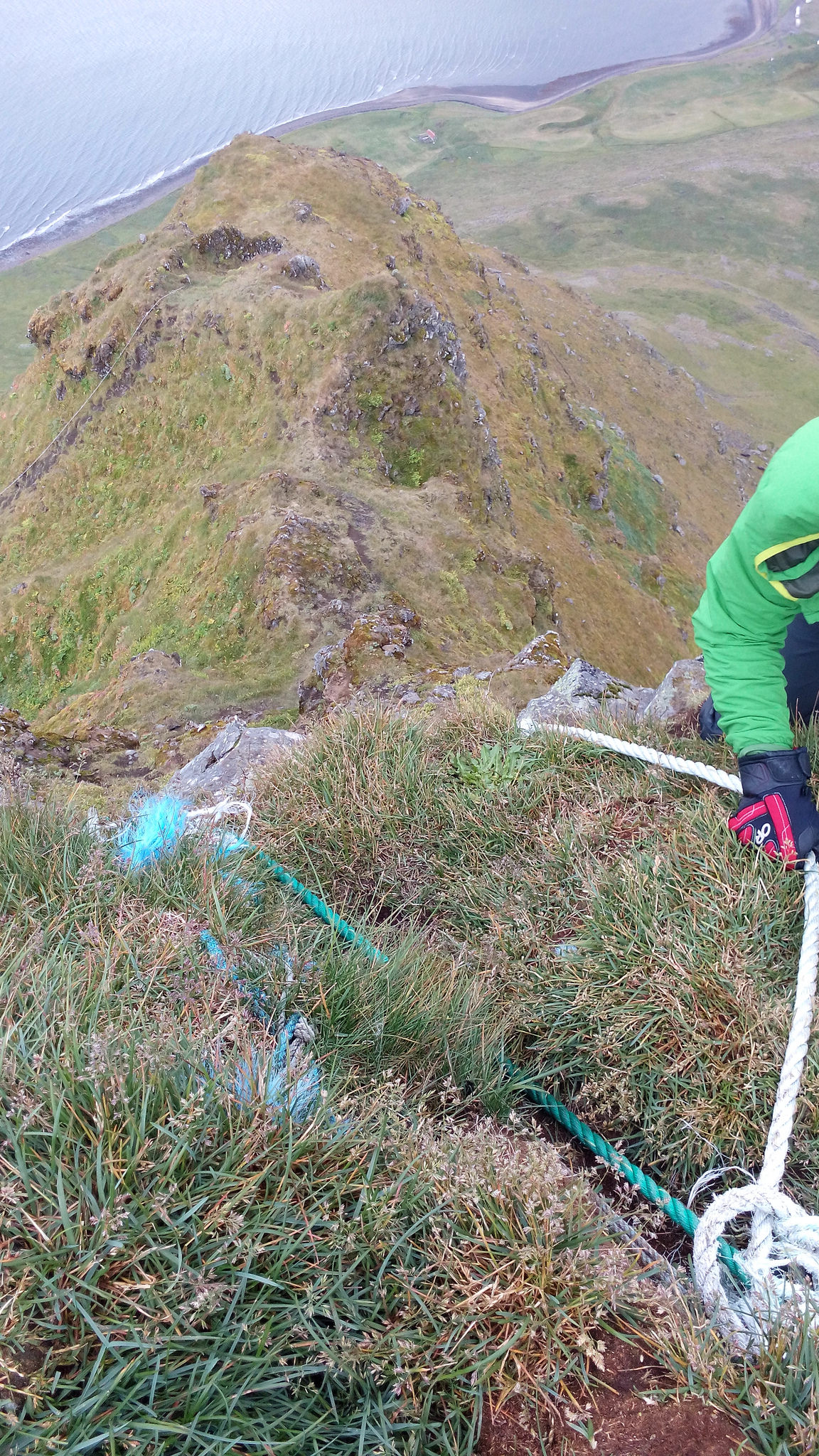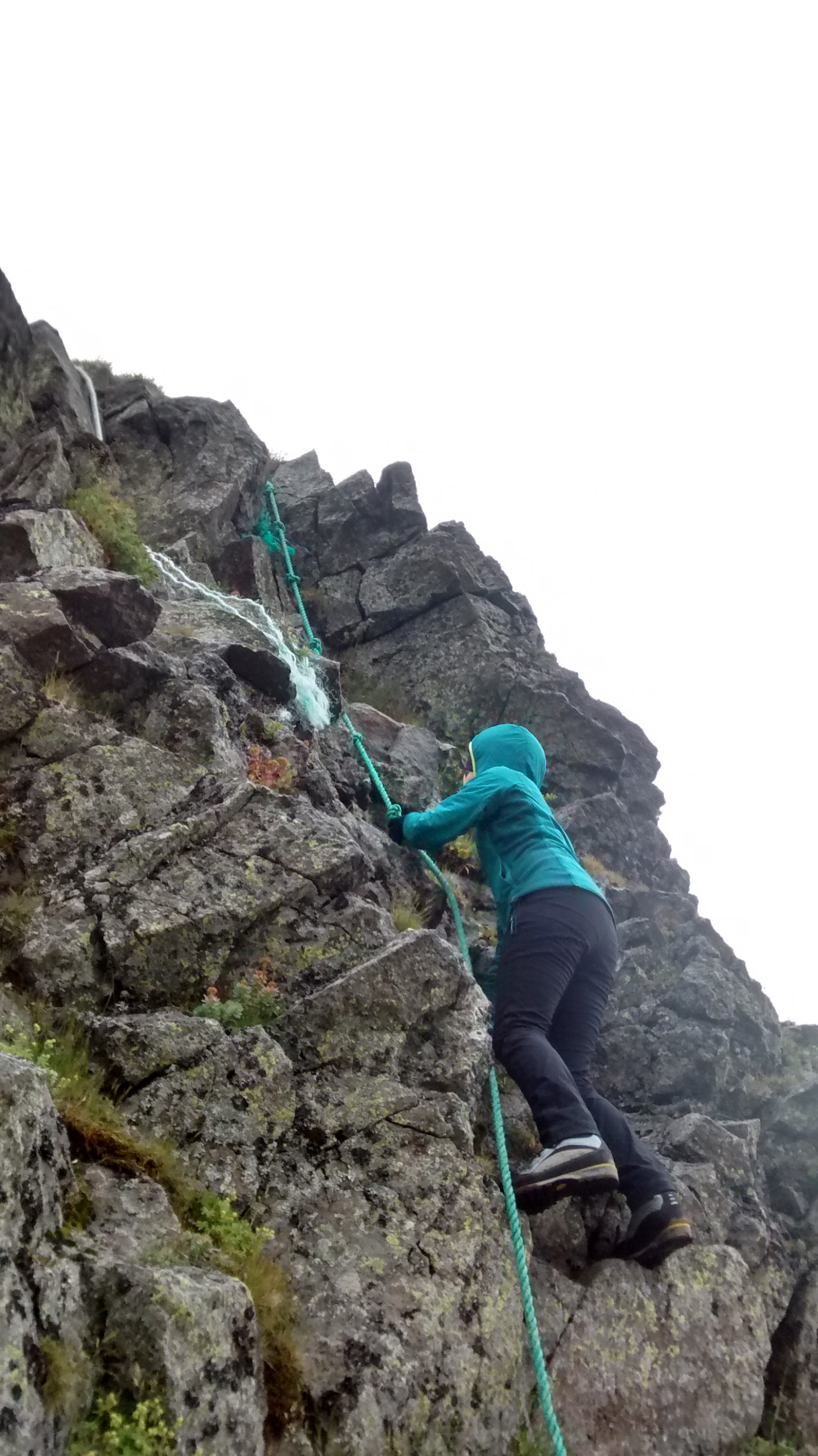 The start of the summit ridge is a narrow, only a few meters wide. It's covered with grass, but I don't know what the beneath the grass there, because I could actually feel vibrations in the ground from Dorothy walking nearby. We walked over to the summit, took a few photos, and made our way down. On the way back we both carefully stepped over the (probably-not-electric) fence, and hopped back in our car.
We drove back to Grundarfjorður to stuff our faces with victory ice cream and then started our drive back to Reykjavik. We were hoping to relax in a hot pool near Skjálg, but when we got out of the car, the wind was so bad, we could barely walk without falling over; so we continued on to find a campsite with a pool attached. We decided to go to Hlaðir, which to our surprise is actually a museum with a pool and a campsite attached. The wind there was even worse, which lead me to sprint after a glove and a bag of lettuce that got inadvertently dropped. We gave up on the pool idea, since it was outside, but fortunately there was a little embankment that we could hide our tent behind which kept it mostly protected from the wind. We were quite happy this was our last night in a tent.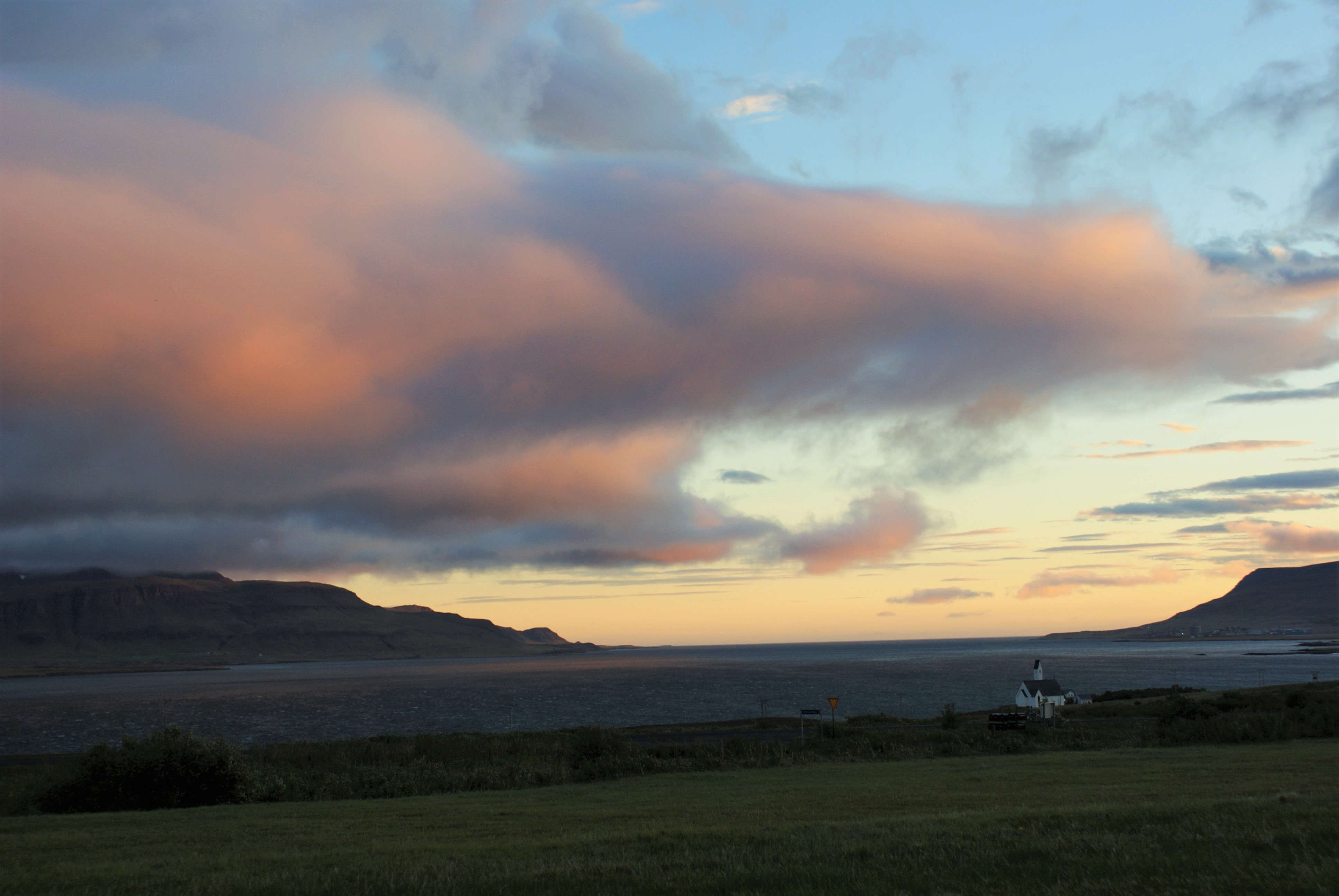 August 29
We woke up again at the usual time of 8:00, made ourselves some coffee, and hopped in the car to head to Reykjavik. When we arrived at the city outskirts, it was only about 10:00, so we went to one of the city pools (Árbæjarlaug) to go hot tubing again. When we got out of our car, we noticed it was surprisingly quiet—the wind was gone! In fact, it was almost sunglasses weather!
After a nice swim we picked up food at a grocery store and had a little picnic in a nearby park before heading down to Smáralind to check out our first Icelandic shopping mall. We checked out all the various shops, before settling on some more delicious ice cream at the Ísbúðin.
From there we when to the apartment that we had rented via Airbnb, and dropped off our rental car. The apartment had no wifi, and for some reason we couldn't get a DHCP address from the wifi in the bar downstairs. There was an adjacent restaurant name Gló, however, that had wifi as long as you had an access code. We figured we'd go over there and order a coffee to get wifi. To our surprise, it was actually a raw vegan restaurant, and we ended up having some surprisingly delicious mushroom soup instead.
August 30
Today Dorothy's relatives gave us a wonderful tour around Reykjanes. Meeting up was a little complicated, because we had no Internet connection and no way to hear back from them. Eventually, they showed up, and everything was good. We drove to Sad Cars and picked up my passport, and then to the base of Helgafell to go hiking. We met up with four more relatives there, and each one of them greeted us with "Hi, did you find your passport okay?" I guess news travels fast in this family.
Helgafell is a little mountain outside of Reykjavik, Gummi explained to us that the mountain was formed by a subglacial eruption. Much of it is composed of a sort of sandstone slab, and find places have rocks buried in the sandstone. The mountain seems quite popular, almost like the Grouse Grind, but less grind.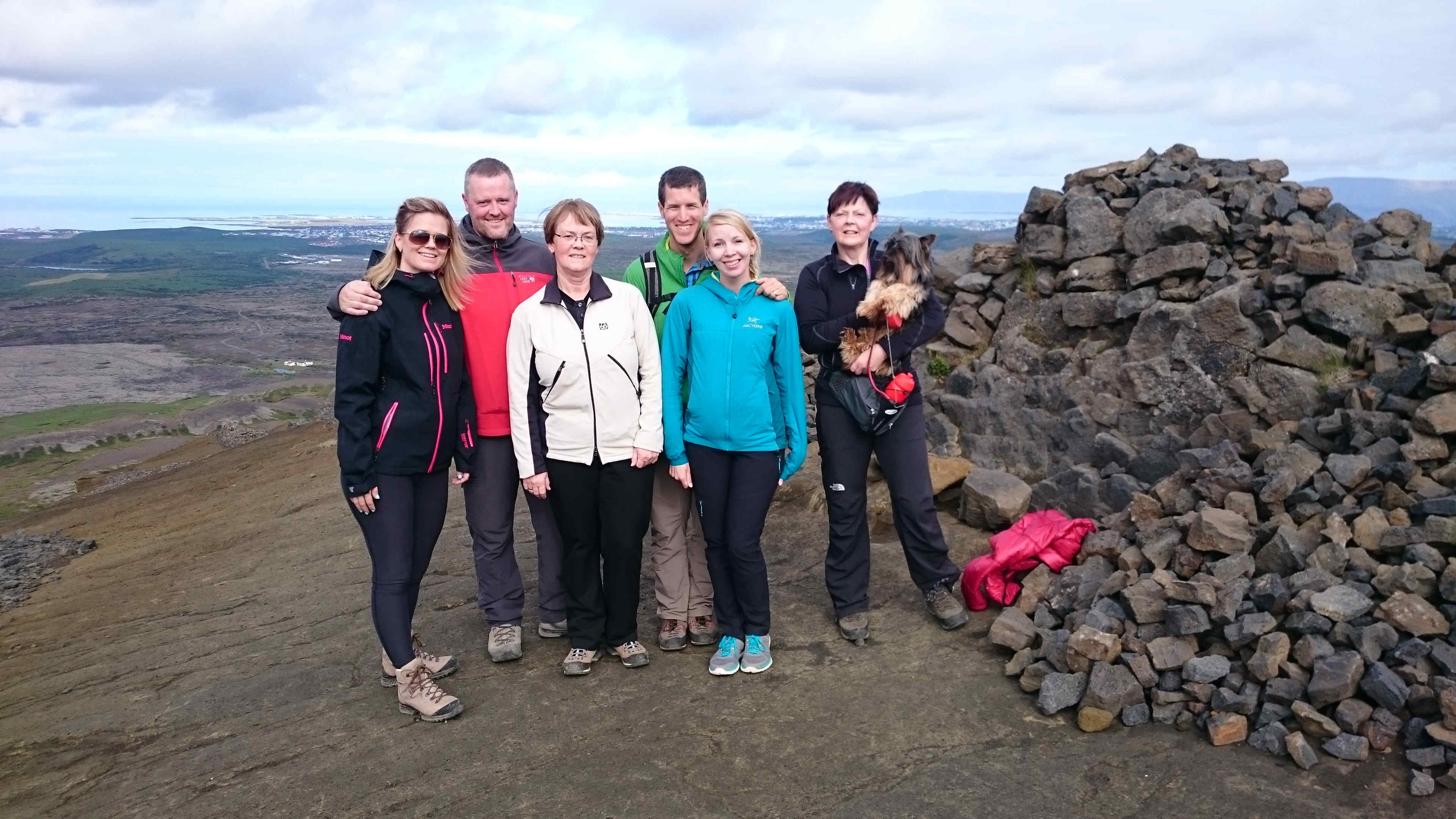 After the hike, we went to Binna's house and we're treated to a delicious dinner: rice and some peanut satay with lettuce and yummy other salad things. Sigga's grandson, Óskar, tried to teach us Icelandic.
After the meal, Binna and Sigga took us on a tour of the Reykjanes Peninsula. First we visited Grindavík, where they used to work in the fish factories. Being on the south coast, Grindavík gets a lot of bad storms, and you drive up right beside old shipwrecks if you take the road that goes around Hópsnes.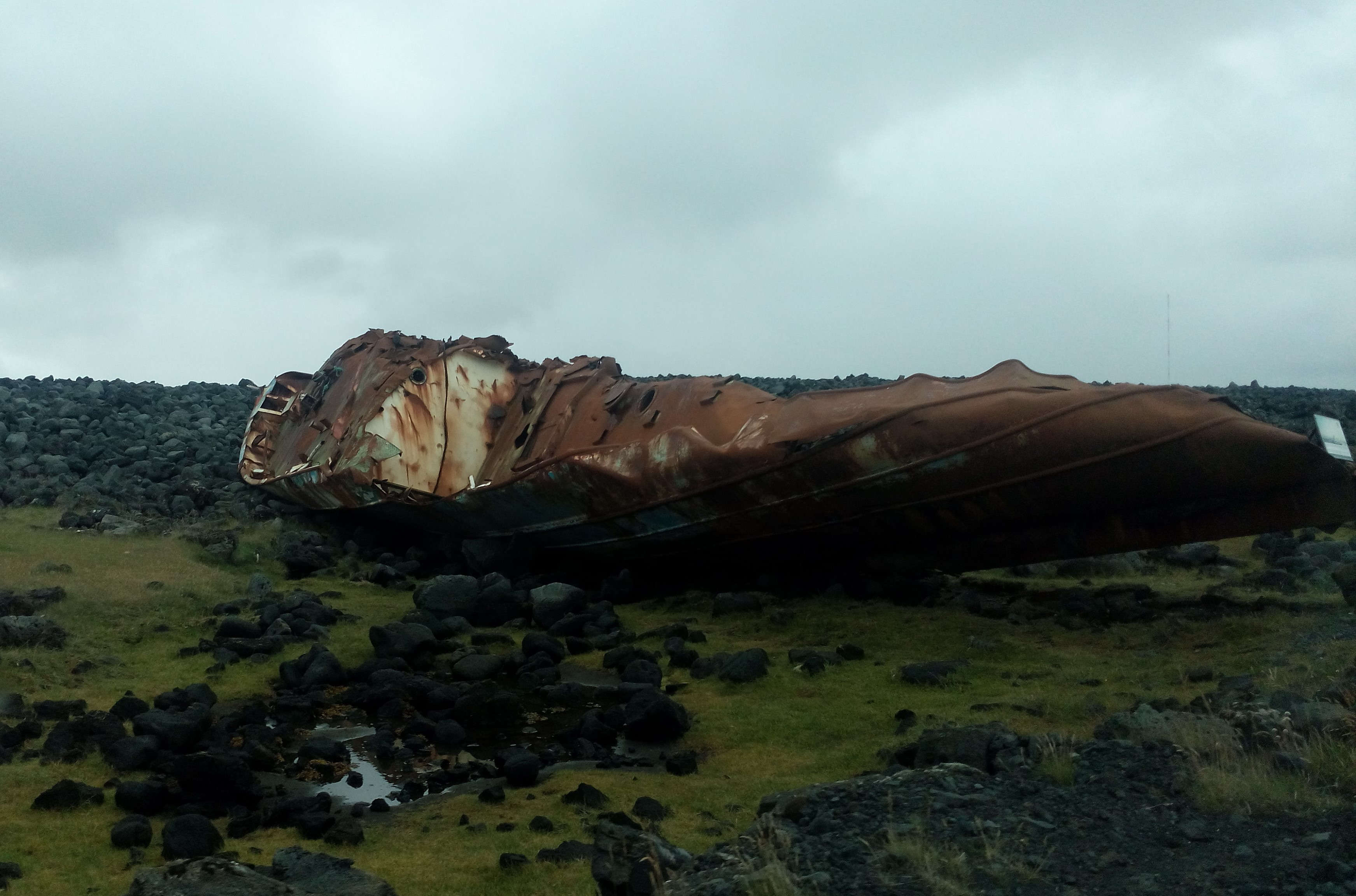 We also drove by a large radio tower own by the Americans. Despite its strategic location in the middle of the Atlantic., Iceland apparently has no military—at all. The US used to have some military bases in the country, but they pulled out about 10 years ago. Now all that is left is a few radio towers to look out for Russian submarines.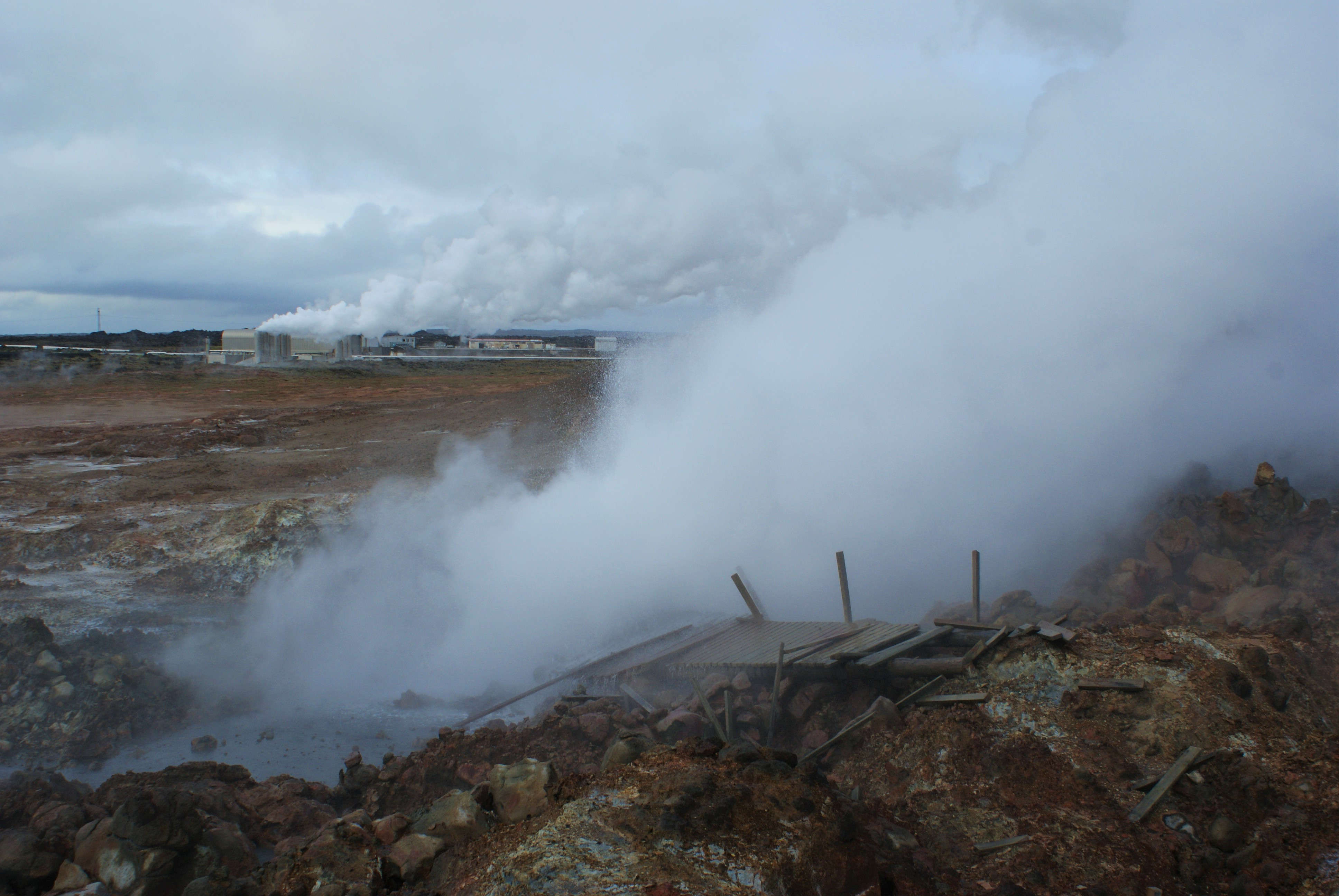 After that, we went to the south west of end of the peninsula, Reykjnestá. We saw some more hot springs and saw a statue of a Great Awk—an Icelandic version of the Dodo Bird. It was large and flightless and could only waddle around; so it made for an easy meal when humans first arrived in Iceland, and didn't last very long.
After that, Binna and Sigga took us out for dinner to the Salthúsið restaurant in Grindavík. Dorothy had fish, and I had lamb chops. Traditional Icelandic food involves a lot of meat, very yummy.
August 31
The Blue Lagoon
Today we woke up at the early hour of 7:15 to prepare for our arduous task of visiting the Blue Lagoon. Almost every place in Iceland refers to itself by its Icelandic name, but the Blue Lagoon (Bláa Lónið in Icelandic), exclusively refers to itself by the English translation. Pretty much all the signs are just in English too. If you want to forget you're in Iceland. This is the place to go.
The first task was to go to the bakery and pick up a large pastry, since you aren't allowed to eat you own food at the Blue Lagoon, we needed some calories to munch on as soon as we left. Then, we went to look for our bus, which was a little confusing because we had unwittingly booked our tickets for a road which didn't also allow vehicle traffic, so the bus ended up wobbling around in a nearby intersection until we found it. Also, the bus was supposed to have Wi-Fi, but it didn't. It did, however, get us to our destination alive, so that's nice.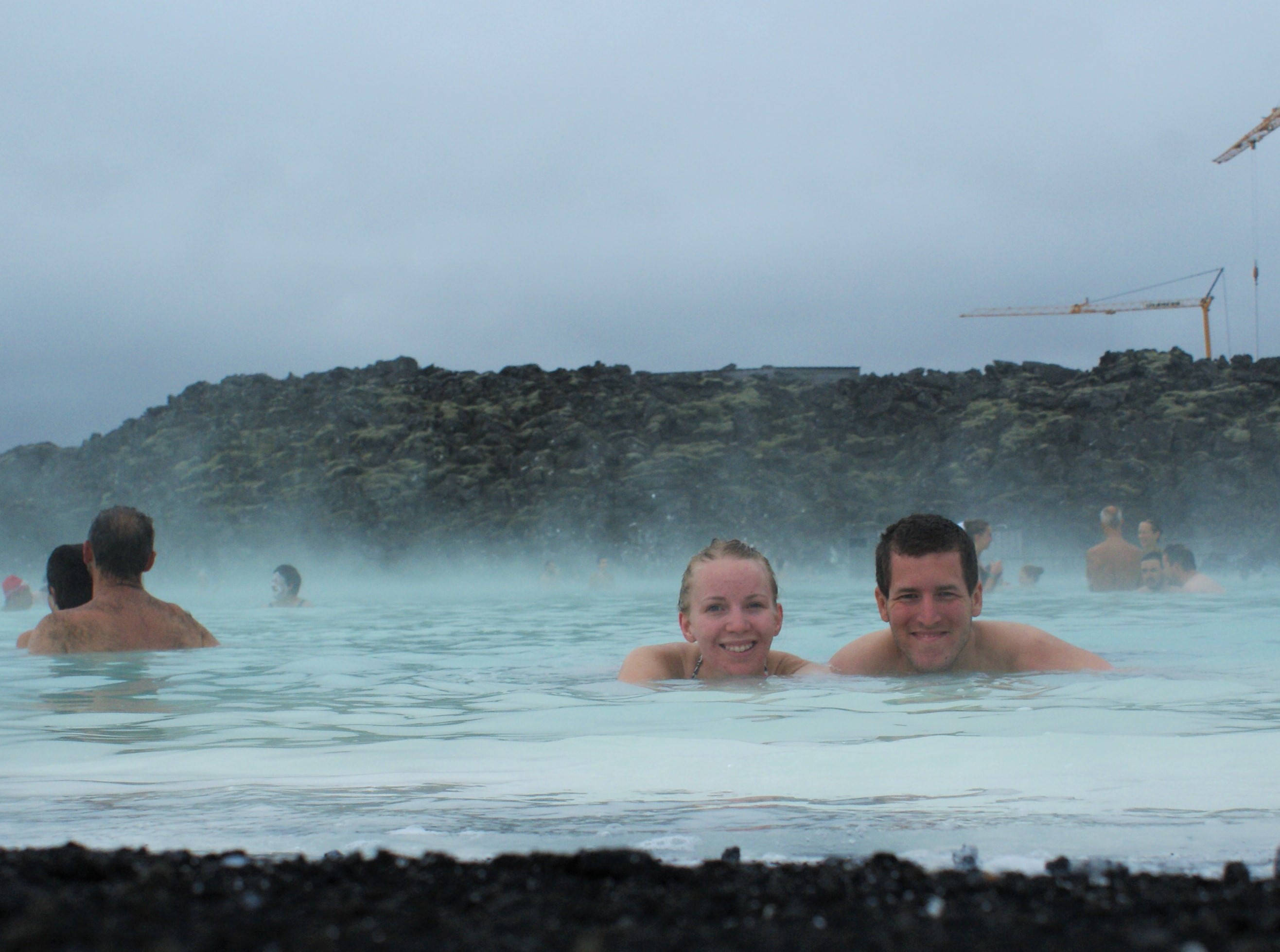 The Blue Lagoon is basically a luxury hot pool. It's shtick is that there is a lot of silica in the water there, and this gives it an unusual light-blue color. It also leaves a smooth and slippery, porcelain-like, coating on the volcanic rock there, which would otherwise be very sharp and abrasive. There's a fair bit of sand on the bottom too, which feels nice on your feet. It also leaves residue on the body which decreased the skin's permeability. Apparently this amounts to "healing powers".
The place is quite scenic, but it is also quite crowded. The pool entrance area smelled funny for some reason, but as long as you don't think too much about what other people might be doing underneath the murky water, is fine. Many people look like clowns there, because they put the silica on their face. This can be very entertaining to watch, particularly when it's applied unevenly. I snuck in a chocolate bar because I expected food prices there to be highway robbery, and they were.
Biking Reykjavik
After eating some proper food, we walked over to a nearby bike shop (Borgarhjól) and rented bikes. It was a little pricey (about $40 for each bike for 24 hours), but definitely worth it. Reykjavik has a number of nice bike paths, and many of the sidewalks/walking paths are large and accommodate bicycle traffic well.
We first went up to Hallgrímskirkja, the iconic church in the heart of the city. It sports a really large organ which would be amazing to hear, but nobody was there to play it. Then we went up to Perlan, a big glass dome on top of a hill. We didn't know what it was and thought it might be interesting, but it turns out it was just a restaurant. We did, however, get a photo with some dancing metal figures.
We went down by the university and then through the park in Fossvogsdalur. The people of Reykjavik really know how to make nice parks. There were nice paths, a complete frisbee golf course, a bunch of sports fields, play grounds, and even a small neglected climbing structure with plastic holds that were prone to spinning.
We continued along to Elliðaár, and then down to Mjóddin. I had noticed an "apparel store" on my map there, and Dorothy had been wanting to look for a scarf. It was only when when got there, that I realized that the store was named "Prinsessan", and that it specialized in selling princess dresses to little girls.
On our way back, we stopped at another mall. Kringlan, and got a cute ear warmer at the Hagkaup instead. Success. Then we went down along the sea wall to the harbor, where we ate ice cream at Valdís—a good way to end the day.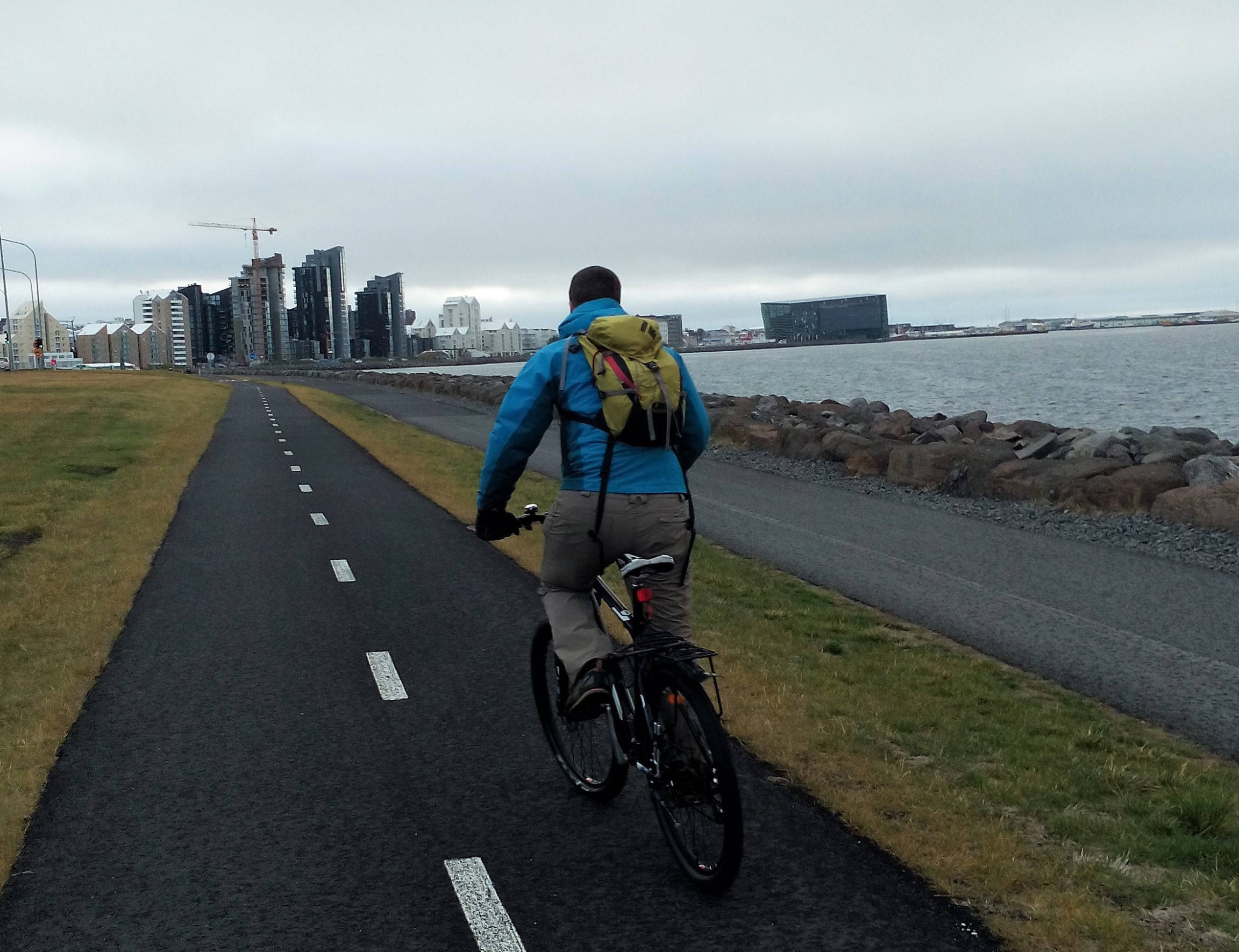 September 1
This would be our last morning in Iceland. We got up and ate breakfast before biking over to the nearby bakery for coffee and pastries.
From there we biked over to the zoo. The zoo here only has animals that domestic Icelandic animals, which means it has about 6 kinds of animals, including ducks, sheep, and cows. There are not many animals in Iceland. Just across the way, however, is a botanical garden, which to our surprise had all sorts of plants in it (since most of Iceland has nothing but moss and grass). We also visited Þvottalaugar, the remains of an hold hot springs that was used by the women of Reykjavik to do the laundry many years ago.
After that, we rode back, dropped our bikes off, ate some food and ice cream, and hopped on a bus to Keflavik airport.