trip date

2016 July 22–25

party

Alan Trick, Dorothy Trick, Mike VanWerkhoven, Christian

grade

AD-

cover

/trips/2016/shuksan_summit_return.jpg

tags

Trip, 2016, Outdoors

summary

2.5 long days & fantastic scenery
After our success on Harvey's North Ramp, I figured Dorothy & I were ready to do Shuksan together. Mike had been itching to do it, so one weekend we made plans to drive up on Friday night and hike into Lake Ann and then climb the mountain on Saturday & Sunday.
It had been raining on Friday and we arrived at the parking lot at about 21:00 to the sight of some bedraggled climbers returning from a jolly day of getting drenched in the rain. While it was dark and cold, and still drizzling a bit, at least we weren't as bad off as they were. We strapped on our packs, headlamps, and headed off.
About 45 minutes into the hike, I realized I'd forgotten my sunglasses in the car. Hiking all the way back up there has a pretty dismal thought, but there was no way I was going to last on the glacier without sunglasses, so I gave Dorothy the tent and Christian and I returned to the car to get my sunglasses. In the end, we got to the campsite at about 2:00.
We woke up again about 8:00 and packed camp and headed back out. It wasn't raining anymore and you could start to see some breaks in the clouds. The first bit of the trail snakes its way up some steep scrubby slopes before reaching a short rocky gully. At the top of the gully we crossed a large snow slope and came across a large, tricky moat that we had to carefully hop across in order to reach the rock at the base of Fischer Chimneys.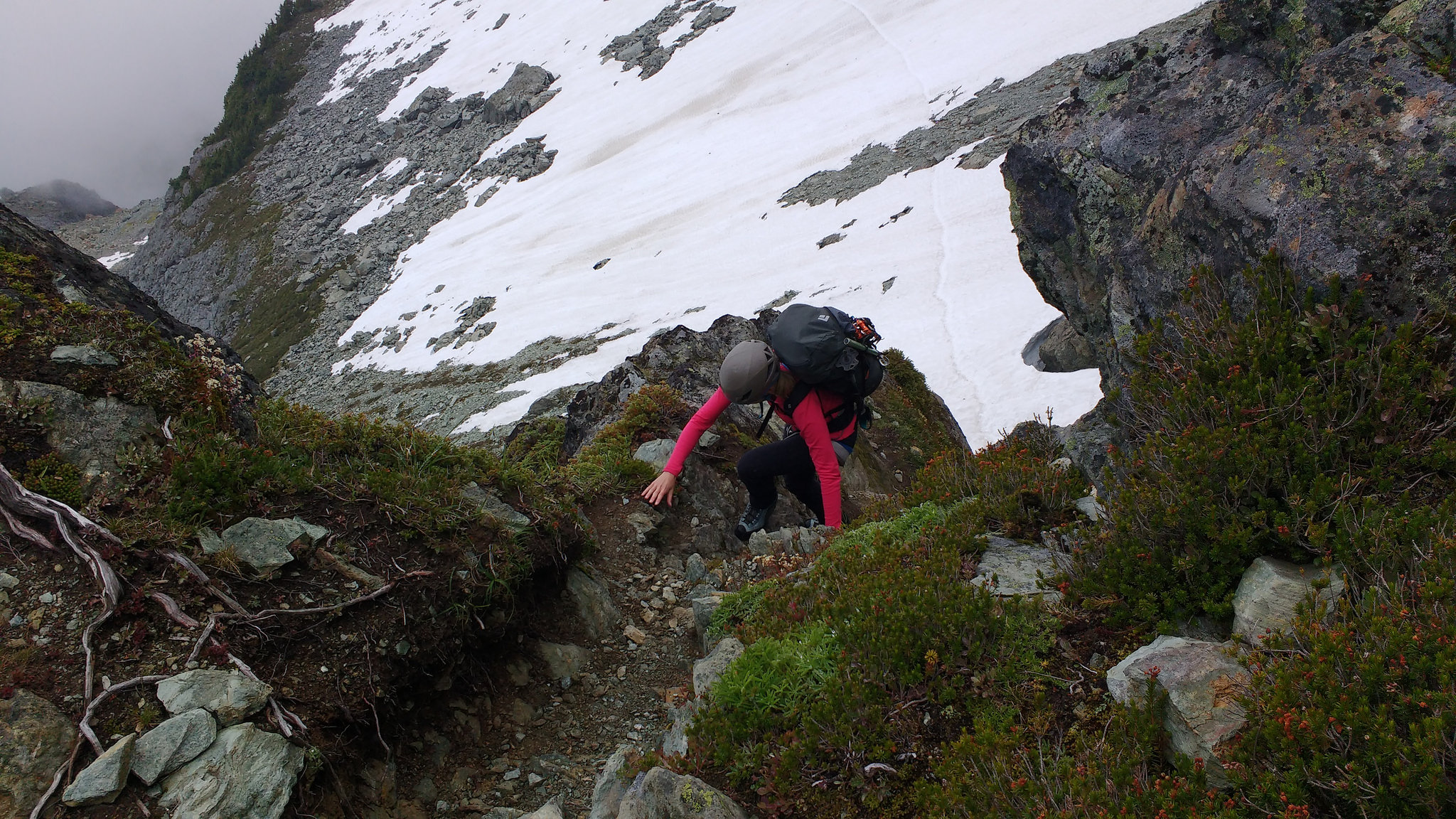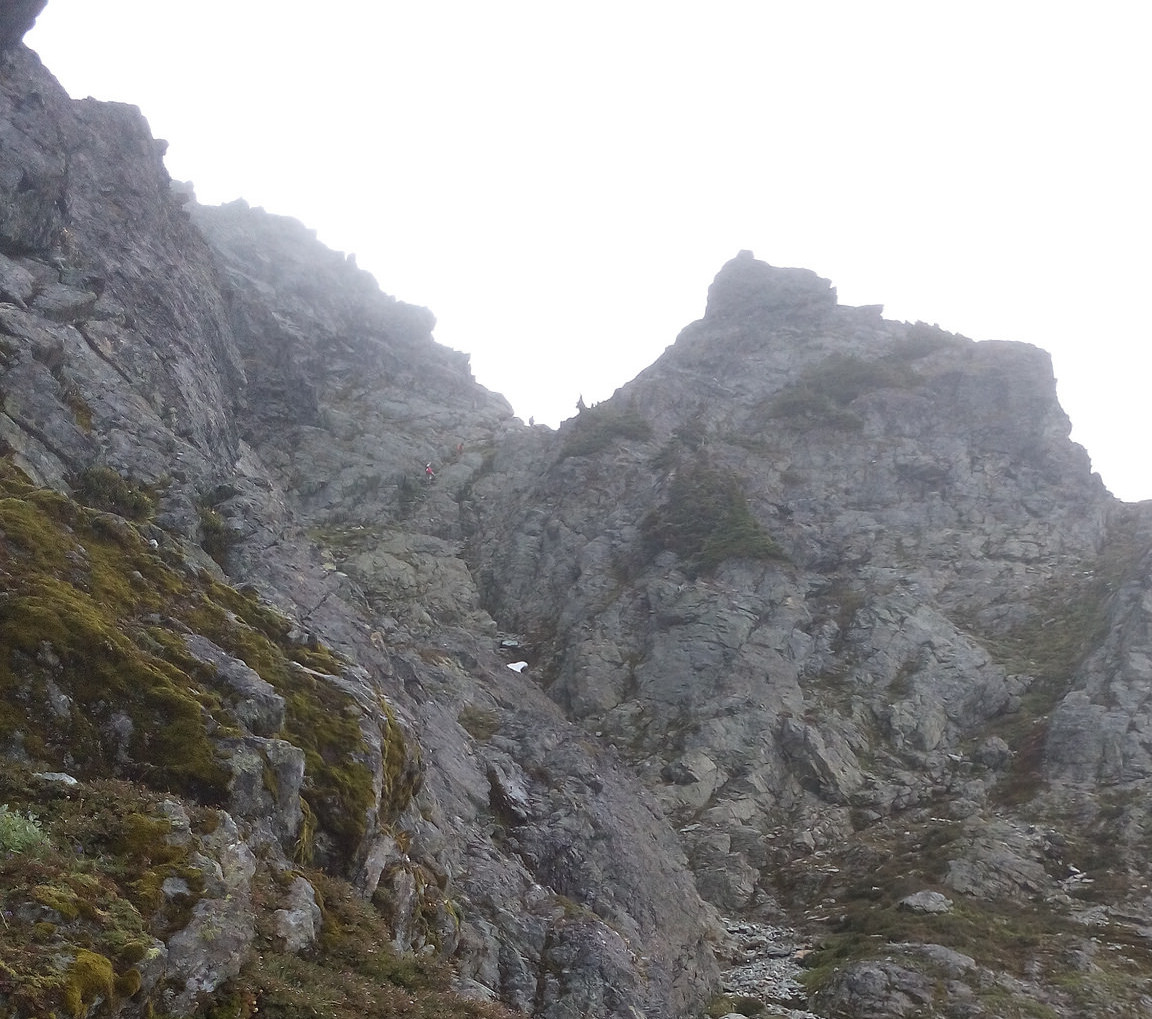 The Fischer Chimneys themselves are mostly class 2 and 3 with a few short sections of class 4. I thought the route-finding in them was easier than other sources on the internet had suggested, but perhaps its worse in other conditions. After the scrambling was over, we traversed a snow slope an arrived at the campsite about 12:30.
At camp, we hummed and hawed about what to do next. Dorothy felt tired and wanted to stay at camp. I wanted to stay with Dorothy, and Mike and Christian wanted to go to the summit, but not alone. In the end, Dorothy decided to keep going and we slogged up, into the fog.
We climbed up Winnies Slide, and slogged our way up and across the Upper Curtis Glacier, and Hell's Highway. Once we got on the Sulphide Glacier we were stuck in the clouds, and we couldn't see very far. As we reached the summit pyramid, the clouds started to lift and you could see all the little climbers below.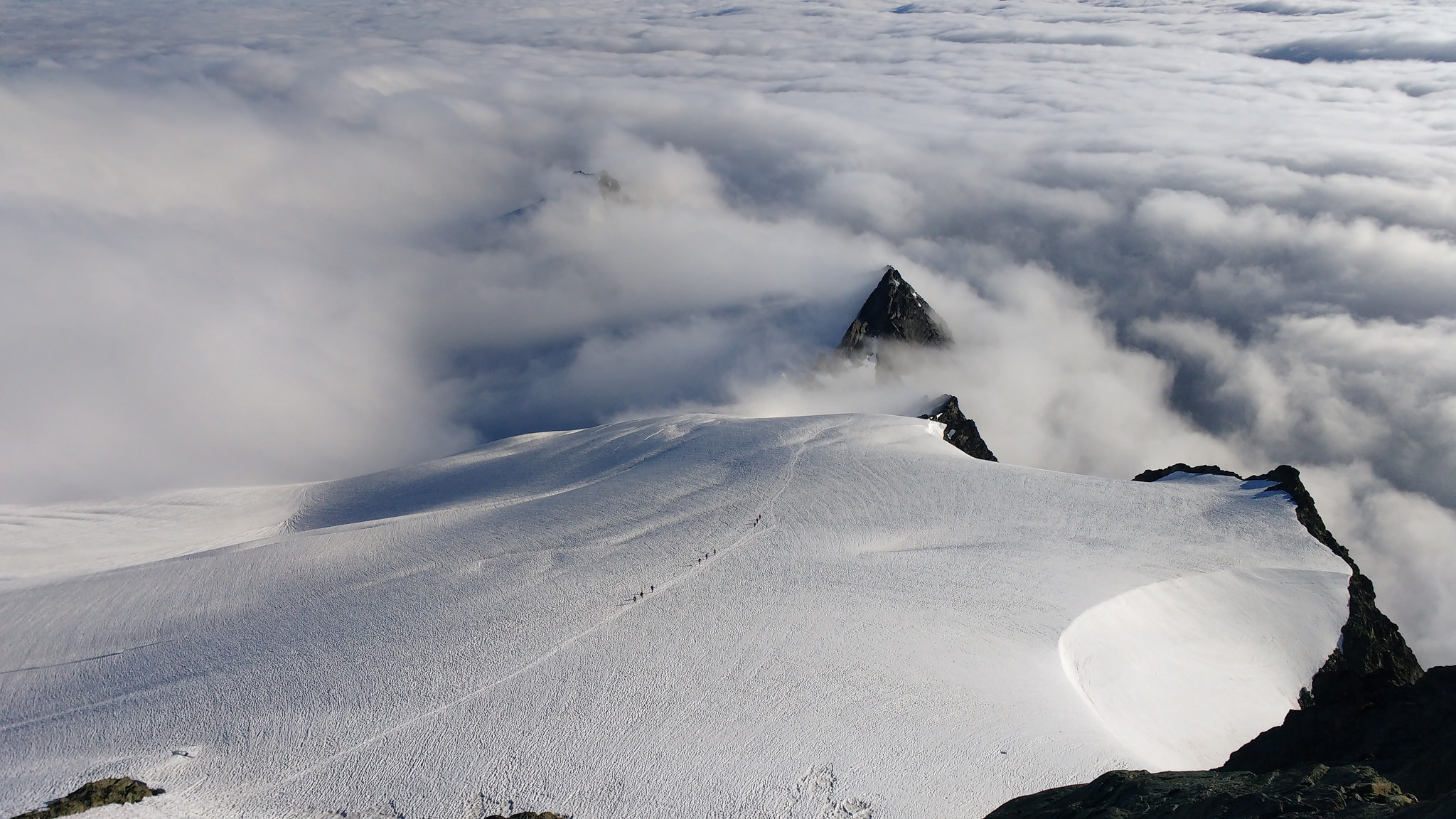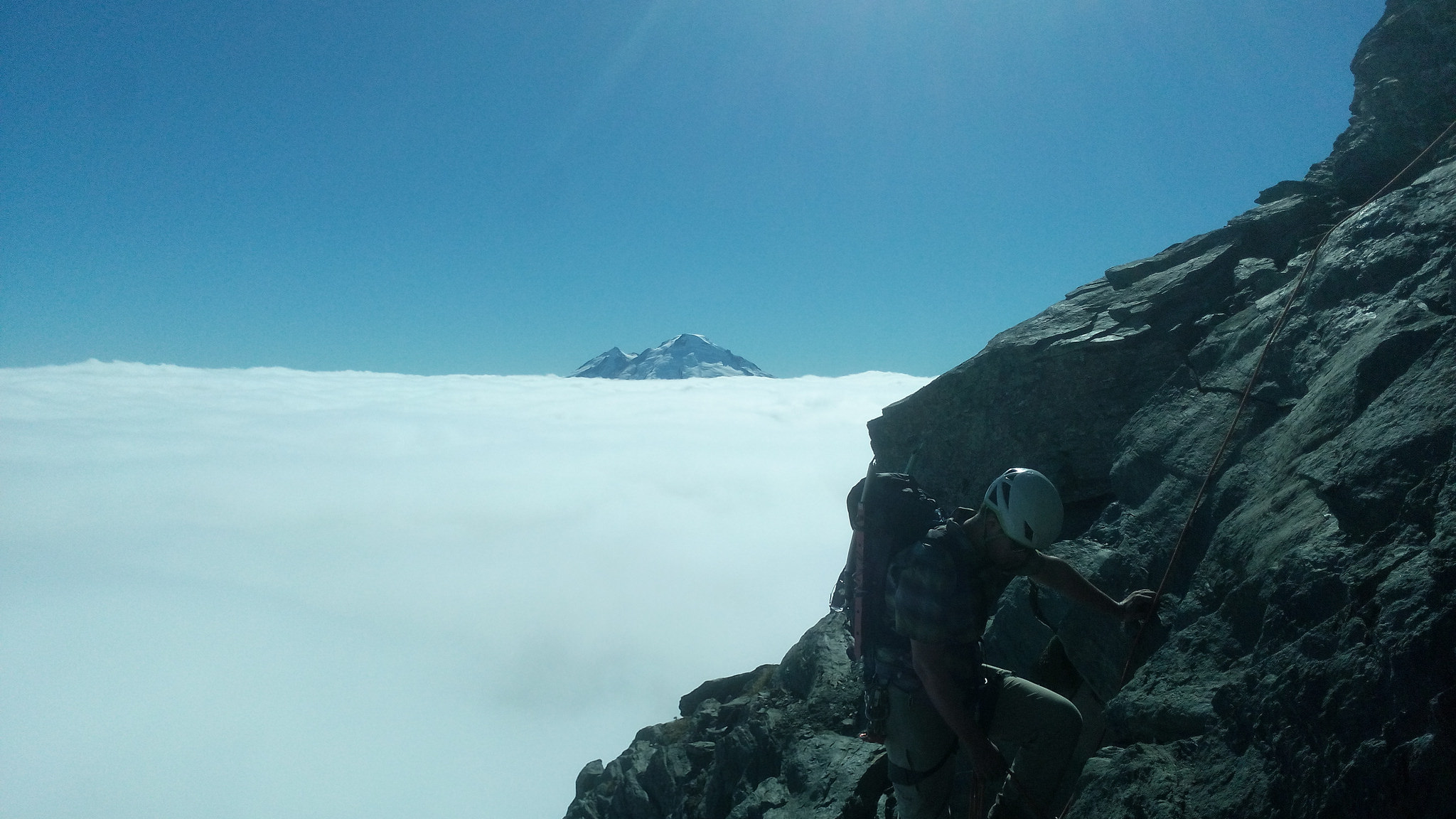 The summit pyramid itself was probably easy 5th class. We roped up a bit on the way up. The view from the top was amazing as it was mostly just a sea of clouds below with Mount Baker sticking out to the west. We reached the summit about 18:00, ate food and took selfies. On the way down we did a few rappels and then walked down the Sulphide Glacier and back into the clouds.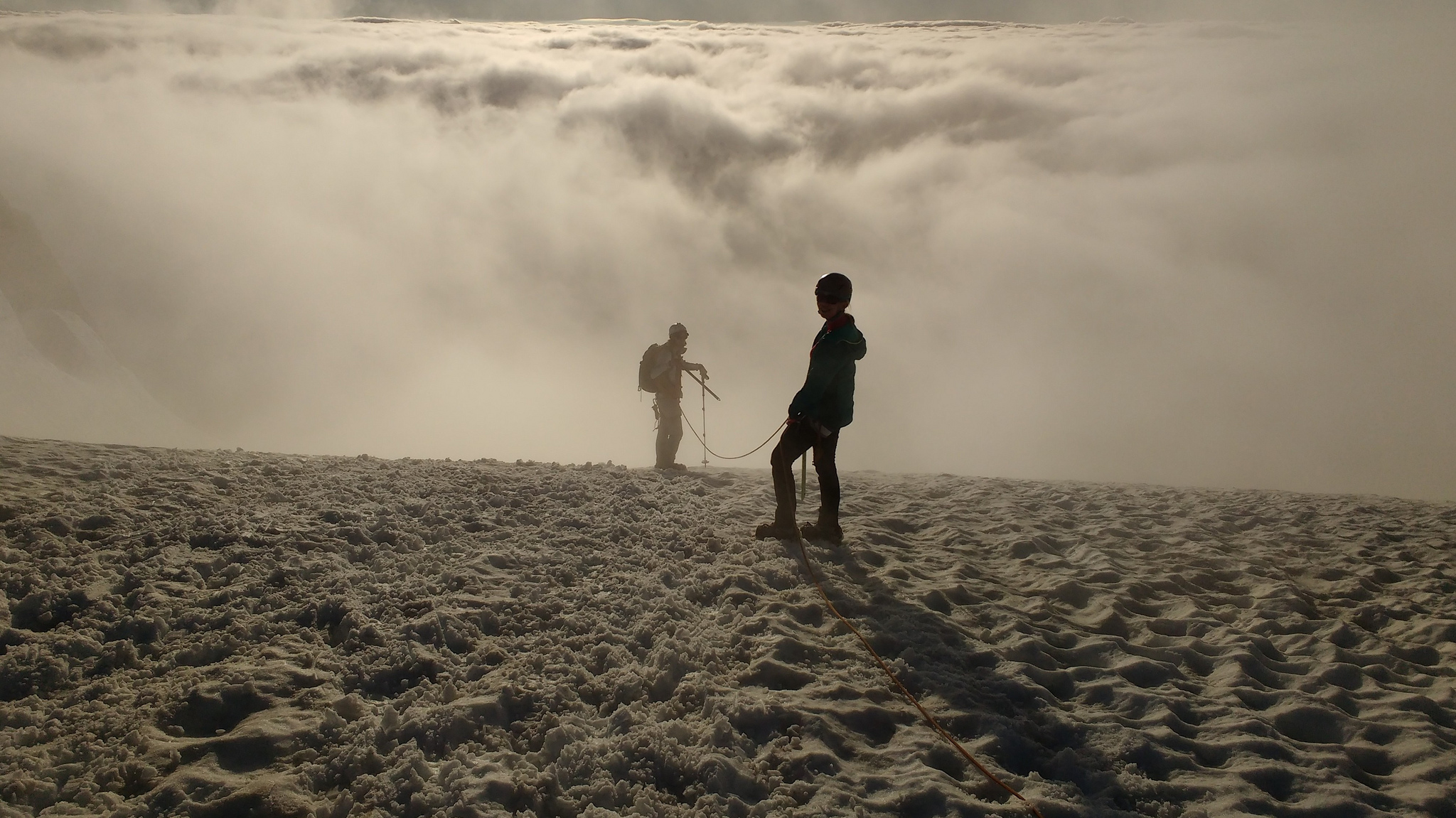 At this point though, the cloud layer was rapidly dropping and by the time we got to camp is was well below us again. It was getting dark by the time we reached camp and we ate a hardy dinner and got ready for a nice, very long sleep.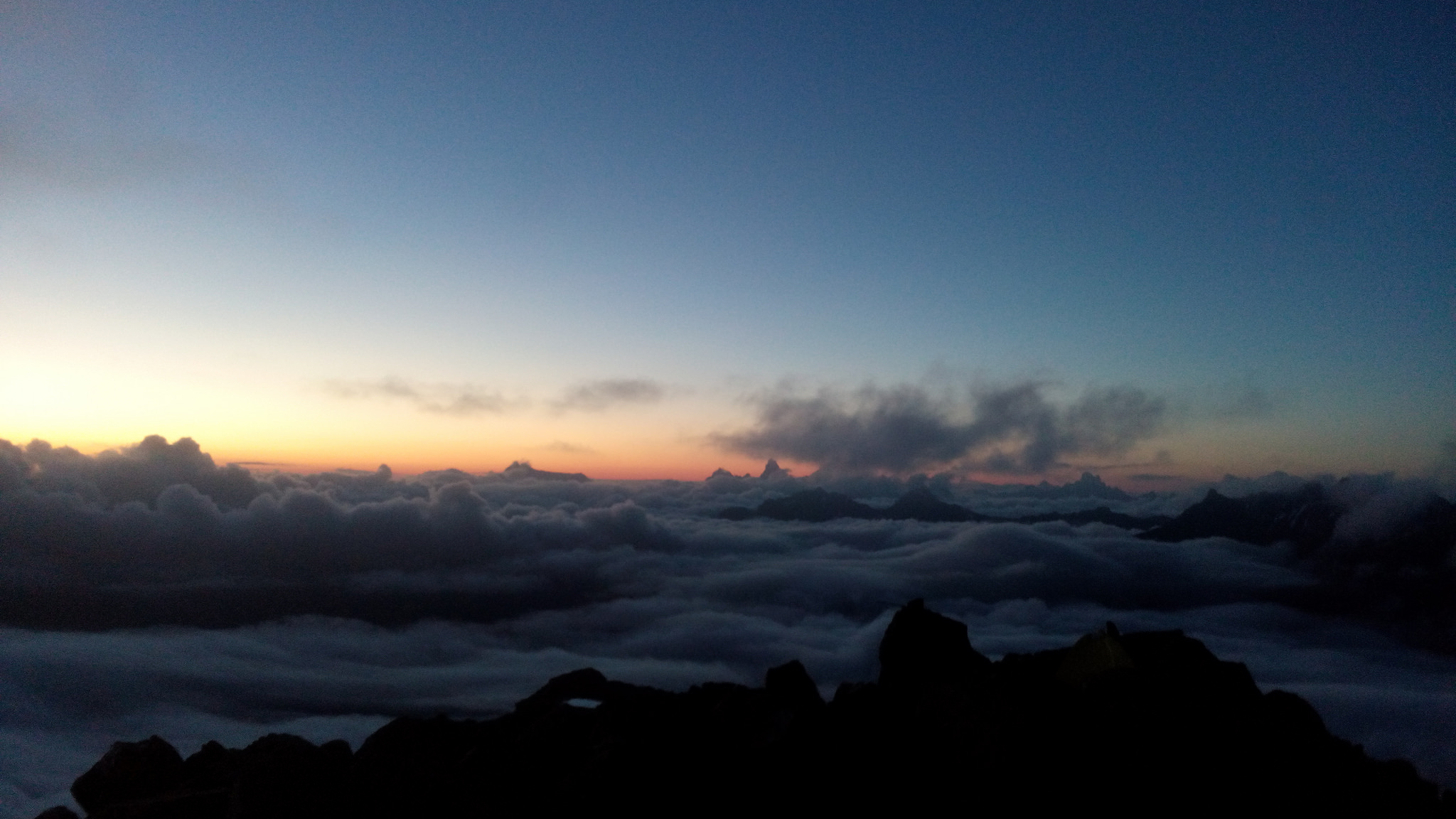 We slept in the next day and woke up at the late hour of 7:30. This day we had it pretty easy, which is good, because we were pretty knackered. We did a few rappels down the chimneys. And then walked down to Lake Ann where we met a boatload of normal hikers and families out for their Sunday stroll. From there we hiked back up to the parking lot and drove home.